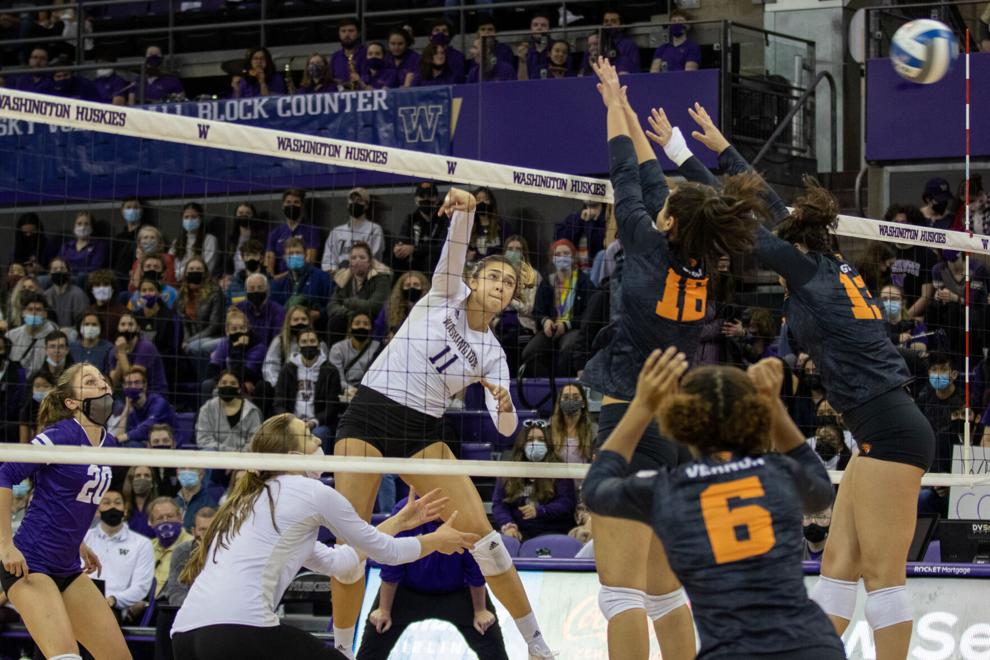 Tied with UCLA for first place in the Pac-12 standings, the No.12 Washington volleyball team went into Friday's match against Oregon State trying to keep pace in the conference title race.
While the Beavers (4-23, 2-15 Pac-12) put in a strong performance, the Huskies (12-4, 14-3 Pac-12) handled the match with ease and came away with a 3-0 (27-25, 25-20, 25-16) victory.
On paper, UW was the clear favorite, as OSU sat at second-to-last place with only two wins in the conference. Meanwhile, the Huskies headed into the match at the top of the conference, winning 13 out of the 14 previous games.
However, the Beavers came out strong, almost catching the Huskies off-guard.
With a back-and-forth battle between the two teams throughout the entire set, the Huskies and the Beavers found themselves dead-locked at 25-25.
UW junior outside hitter Claire Hoffman stepped up to the service line and delivered an ace, which was then followed by a block assist by junior setter Ella May Powell. After a hard-fought set, the Huskies took the early lead, coming away with a 27-25 victory.
"Certainly in the first set, Oregon State played extremely clean," head coach Keegan Cook said. "We had that feeling of frustration… [But] we found enough offense and we were good in the late moments."
The second set also faced a narrow margin, as the Huskies were up by one point with the score at 20-19. However, Washington buckled down in the final moments of the set, winning the five out of t six points. It was another service ace by Hoffman that ensured Washington's 25-20 win in the second set.
With a commanding 2-0 lead, the Huskies certainly kept their foot on the pedal. With the help of eight kills in the set by junior outside hitter Shannon Crenshaw, Washington dominated the third and final set with a 25-16 victory.
As of lately, Crenshaw has been getting more playing time and has been seizing her opportunity. After a match against California where she recorded 13 kills, Crenshaw impressed again Friday, as she produced a career-high 15 kills and hit .538.
"[Crenshaw] made a big jump in her physicality this off-season and, combined with her already high skill level, you're seeing the result of years of hard work," Cook said. "Love seeing it for her and love seeing the depth that it gives us in that position."
Freshman outside hitter Emoni Bush has also been stepping up on the offensive end, as she finished with 13 kills and a hitting percentage above .280. Meanwhile, Powell has continued her amazing ability to facilitate, recording 41 assists in only three sets.
As the season nears its end, Washington recognizes the importance of each remaining match, especially as it seeks a second consecutive Pac-12 title. Locked up with UCLA in first place, it's no secret that UW must win every game from here on out in order to break the tie. 
"It feels very much like December where, if you lose in December at any point, it's over," Cook said. "I love the kind of pressure it creates and it feels very similar to how the tournament is going to be… It's good preparation for December."
Washington looks to gain an advantage in the title race, as it hosts Oregon on Sunday, Nov. 21 at 2 p.m.
Reach reporter Spencer Smith at sports@dailyuw.com. Twitter: @spencerssmith24
Like what you're reading? Support high-quality student journalism by donating here.