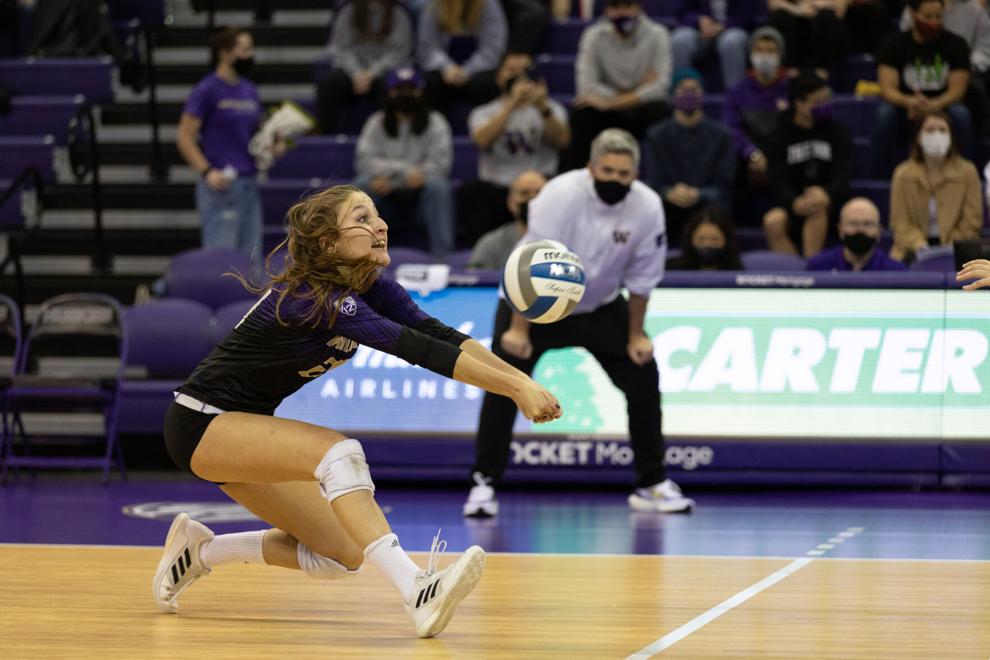 After an uncharacteristic loss to UCLA last weekend, the response from the No. 12 Washington women's volleyball team has been excellent. Sunday afternoon at home, UW defeated Arizona in straight sets (25-20, 25-22, 25-12) for its second sweep in a row to close out a perfect weekend.
"The response to adversity is something that's important to us," head coach Keegan Cook said. "This is exactly what you would hope for and at some point expect from this group."
Once again, the Huskies (18-4, 11-3 Pac-12) started off strong, finishing the first set with a hitting percentage of .375 and a 25-20 victory.
The momentum for Washington continued into the second set, as its impressive offensive efficiency was maintained throughout. Combining for 11 kills in the second set, junior Claire Hoffman and senior Samantha Drechsel once again led the offense for UW.
Hitting .343, the Huskies won the second set 25-22 and a commanding two-set lead.
The third set was where Washington really showed what it is capable of. With the offense firing on all cylinders, the Huskies dominated with a hitting percentage of .483 and a quick 25-12 victory.
This win comes after a solid performance against Arizona State on Thursday in which UW also looked excellent.
The offense for the Huskies was provided through a multitude of individuals. Drechsel and Hoffman led the way, combining for 28 kills and both hitting above .410. Junior middle blocker Marin Grote provided a strong third option, as she hit .636 and recorded seven kills.
"You'd be happy with any one of those performances," Cook said. "I think we take it for granted because we get scoring from those three every night."
With freshman Emoni Bush unavailable due to injury, junior Shannon Crenshaw entered the lineup as an outside hitter Sunday afternoon.
"She made the transition from libero a couple of months ago," Cook said. "She's an option at outside hitter, an experienced player, and she did a great job today."
The Huskies hit the road next weekend, looking for their third consecutive win when they face Stanford on Thursday, Nov. 11 at 7 p.m.
Reach reporter Spencer Smith at sports@dailyuw.com. Twitter: @spencerssmith24
Like what you're reading? Support high-quality student journalism by donating here.