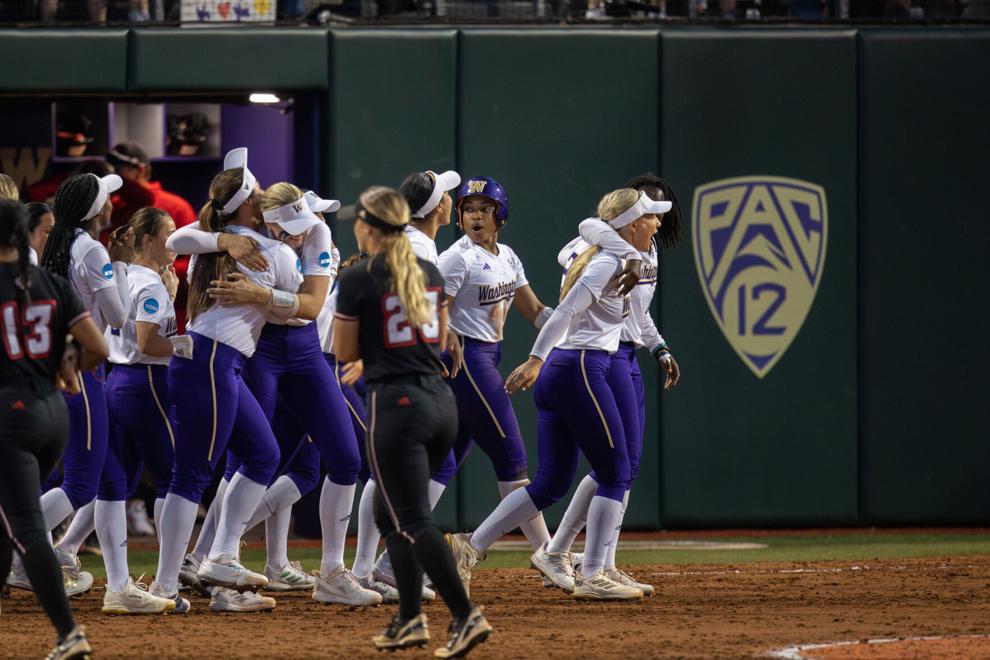 On a gorgeous Friday night at Husky Softball Stadium, the No. 5 Washington softball team shined in front of the sellout crowd in game one of Super Regionals, picking up an 8-0 run-rule victory in five innings against No. 22 Louisiana. 
It was all about the underclassmen Friday night, with sophomore Rylee Holtorf and freshman Sydney Stewart both delivering two-run home runs in the fourth inning. The two have combined for six home runs all season, but brought the power when it mattered most. 
In the fifth inning, The Huskies (42-13, 16-8 Pac-12) slammed the door shut on the Ragin' Cajuns (50-15, 22-2 Sun Belt Conference), with Stewart delivering a hit and advancing to second before freshman Alana Johnson drove both runners home with a 2-RBI single where she advanced all the way to third on a throwing error. 
Holtorf delivered the walk-off single to put the Huskies one step closer to the Women's College World Series. Holtorf finished the day 2 for 3 with a home run and three RBI.
"Seeing our young ones be able to step up on a stage like this while not having any prior experience and not knowing what it's like, it's awesome to see them do that," fifth-year SilentRain Espinoza said. "The joy on their face just brings so much energy to our team." 
Freshman ace Ruby Meylan was sharp as ever in the circle, shutting out Louisiana and escaping difficult situations throughout the game. In five innings pitched, Meylan (18-5) tossed seven strikeouts while allowing two hits and four walks. 
"After we scored, we needed to not let the other team score and I thought [Meylan] did a really good job," head coach Heather Tarr said. "She battled back from a couple tough moments, but she's growing and she's learning and we are definitely proud of her and proud of the defense that played behind her tonight."
The bottom three batters in the lineup finished 6 for 9, with Stewart going 2 for 3 with two RBI, two runs, and a home run. Johnson finished 2 for 3 with two RBI and two runs. 
Meylan found herself in some trouble early in the first.
After walking the leadoff batter, an HBP sent runners to first and second with one out. A fielder's choice to second put runners on first and third, but Meylan forced a lineout to fifth-year Baylee Klingler who made a fantastic catch at second base to escape the inning with no harm done. 
"We hit the ball really hard, and I thought Baylee Klingler made a great play and that's what great players do," Louisiana head coach Gerry Glasco said. "We couldn't have hit it any harder. That ball gets through and it's going all the way to the wall. I thought that was a huge play, because it kept us from getting momentum early."
The Huskies put themselves in a scoring position early but failed to capitalize.
A leadoff walk from Klingler and a one-out walk from fifth-year Madison Huskey put runners on first and second, but a flyout and a grounder to third led to the force out and ended the inning. 
The first hit of the game came in the third inning when Huskey ripped one to right center field with two outs. After a perfect throw from the center fielder to second base, she was thrown out at second to end the inning.
The Huskies' offense erupted in the fourth inning.
Espinoza ripped a double over the left field wall to score a runner from second, and Stewart followed up by crushing one over the left field wall to give the Huskies a 3-0 lead.
"You can see the how mature [SilentRain] is and the way that she carries herself, her confidence," Holtorf said. "I told her last week, hitting behind her is so awesome, because you can feel the confidence she has at the plate behind her."
Johnson delivered the Huskies' third straight hit with a single through the left side, before Holtorf blasted a two-run bomb of her own over the center field wall. Washington entered the fifth inning with a 5-0 lead and all the momentum on its side.
Louisiana loaded the bases in the top of the frame, but Meylan forced a flyout to left field to end the inning, which was nearly a grand slam.
"When we hit that ball to left-center, we had a chance to make it a 5-4 game, if that ball had went another 18 feet or whatever it is," Glasco said. "We didn't get that play, and they came back and scored three runs."
In the bottom of the fifth, Stewart singled and advanced to second on the throw to put runners on second and third before Johnson sent one into right field, scoring both runs and advancing all the way to third. Holtorf put the nail in the coffin with her walk-off single to send the Huskies home with an 8-0 victory. 
Washington will look to stamp its ticket to the Women's College World Series in Oklahoma with a win Saturday at 4 p.m. against Louisiana. With a loss, Washington will face Louisiana in a winner-take-all matchup on Sunday, time TBD.
Reach reporter Vinny Speziale at sports@uwdaily.com. Twitter: @vinnyspeziale
Like what you're reading? Support high-quality student journalism by donating here.