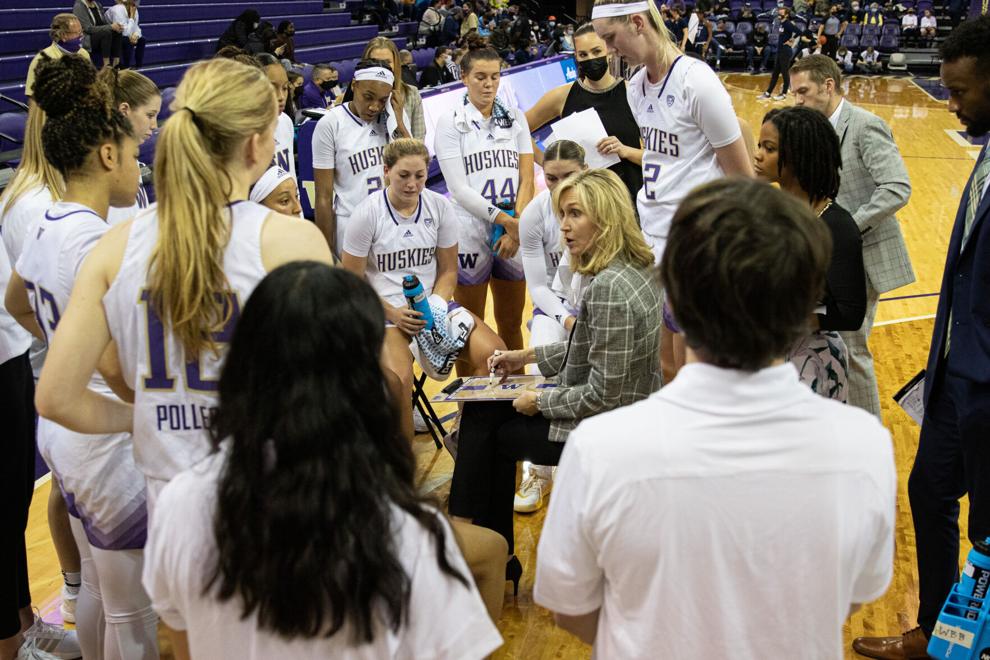 Women's basketball head coach Tina Langley believes that the Washington team is on the path to greatness, albeit gradually.
After winning its first two games under their new head coach, the first game jitters are behind the Huskies, and now it's time to grow.
"This week is still going to be about us learning [about] one another," Langley said after UW's victory over Northern Arizona. "I think that the most important thing for this team is to stay true to the process."
With Washington scheduled to face No. 10 Louisville this Saturday, it would be natural for nerves to set in for the Huskies. However, Langley is confident in her players' ability to battle through their jitters and to focus on what's important: learning how to play as a consistent and coherent team.
"We have so many things that we're still learning and putting in as a unit," Langley said. "It's so interesting — the first two teams we played were very, very veteran, [with] a lot of seniors that had been running their system for a long time. [If] we walk in and we put in everything new … as long as we continue to keep learning and growing together, we will be the best we can be by the end of the season."
Junior forward Haley Van Dyke shared her coach's feelings on the team's preparation for Saturday, agreeing that there isn't much to worry about beyond the Huskies being able to keep their cool and play their best game amid a potentially larger crowd.
"I know it's going to be a big game, and we're going to have a big stage to play on," Van Dyke said. "There's gonna be a lot of people there to see both teams, and I think it's going to be a big challenge for us to see how we perform. But I think we've prepared enough coming up to this game, and I think those first two games were a great kind of test and introduction to the season."
Van Dyke is looking forward to seeing herself and her teammates capitalize on their ball handling and overall composure while moving up and down the court.
"I think our press break, and just handling the ball, is something we're going to have to be really spot on with this weekend if we want to win," Van Dyke said. "I think the press break is important, just handling the ball and being composed with the ball, and not just throwing the ball away. We need to be composed and make easy [passes] to get the ball up the floor and into our offense."
Despite the challenge of trying to take down a top 10 team, Langley stressed that UW's meeting with Louisville should be treated with the same attitude and intensity as any other game.
"I truly believe that it's so important that the focus is on the very next day," Langley said. "The very next thing for us is practice; we won't look ahead, [we will] evaluate the film, decide where we really need to focus our attention next, and then make sure that we prepare to the best of our ability."
The Huskies will return to Alaska Airlines Arena, where they will meet the Cardinals on Saturday at 2 p.m.
Reach reporter Evie Mason at sports@dailyuw.com. Twitter: @eviesmason
Like what you're reading? Support high-quality student journalism by donating here.