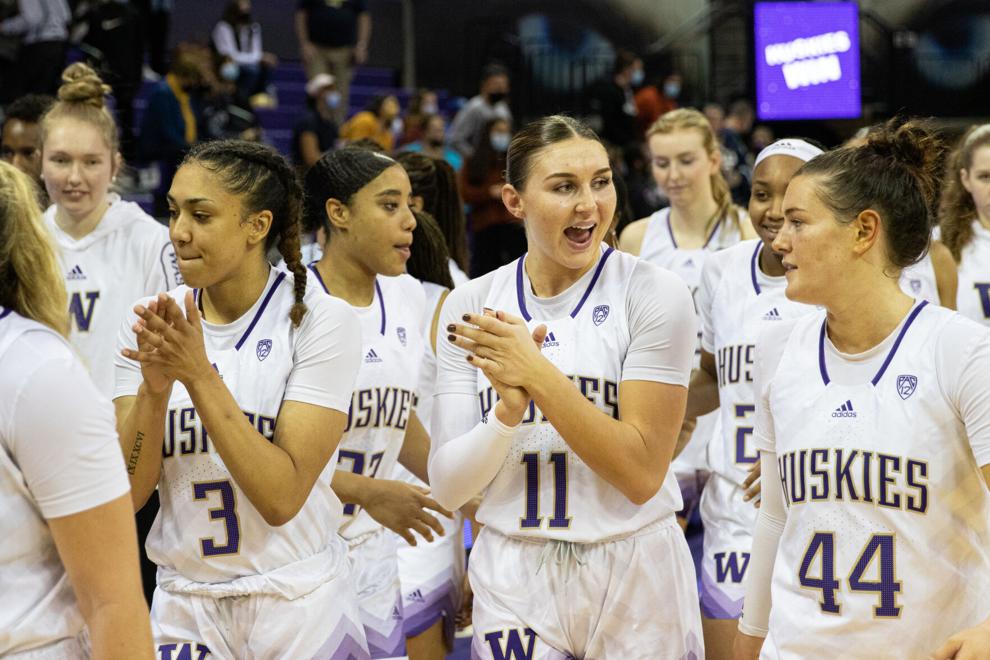 The Washington women's basketball team has undergone a lot of change in the past couple months, including a change in the head coach and the introduction of many new players.
However, junior Haley Van Dyke has been a constant for the past three years and the first two games of the young UW season, including Sunday's game against Northern Arizona.
Her return this year was a pleasant surprise for the Huskies (2-0), as she was in the transfer portal just six months ago. Behind her reasoning for recommitting is the new head coach Tina Langley.
"Missy [Peterson] called me and [said] that [I needed] to talk to coach [Langley]," Van Dyke said. "Then I talked to coach and knew right away that I was going to stay. It ended up working out for the best, I'm really glad that I did [stay]."
Coming off a 12-point, 10 rebound performance against San Diego, Van Dyke provided even more intensity in Sunday's 72-65 win over Northern Arizona.
"I've gotten better at it as the seasons have gone on," Van Dyke said. "I just go in with heart and hustle. "[I go in] knowing that I want the ball and just get it."
Van Dyke started the game off strong, as she had already recorded a double-double by the end of the first half with 13 points and 10 rebounds.
In the second half, Van Dyke continued her strong performance, as she continued to hustle to get rebounds and scored very important points.
After holding an 18-point lead, the Huskies let the lead slip during the fourth quarter, as the Lumberjacks (0-2) went on a 13-0 run to set the score at 66-61 with just over a minute left. To stop the momentum, Washington gave the ball to Van Dyke who drove inside and scored a layup.
Van Dyke then scored two important free throws at the end of the game to ensure Washington's second consecutive win. 
Finishing with 19 points, 13 rebounds, and three steals, Van Dyke set a new career-high in rebounds and grabbed five on the offensive glass. On top of that, Van Dyke shot well, going 6-for-11 from the field and adding two three-pointers.
It's clear that Van Dyke went into this game with a determinative mindset. However, Langley claims that this is the intensity that we should expect from Van Dyke every game.
"Haley [Van Dyke] always puts in incredible effort," Langley said. "She's just a person who plays very hard, very intense, [is a] great competitor and makes our team better."
Having been on the Washington team for three years now, Van Dyke is now stepping up into a leadership role and will play a crucial part in this new beginning for the Huskies.
Reach reporter Spencer Smith at sports@dailyuw.com. Twitter: @spencerssmith24
Like what you're reading? Support high-quality student journalism by donating here.