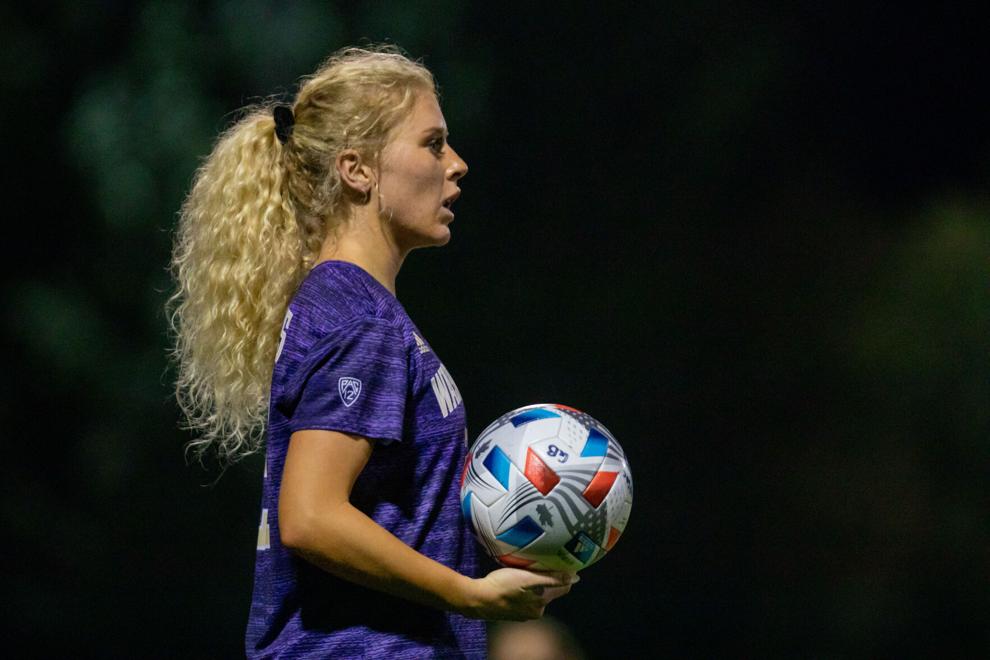 It's senior week for the Washington women's soccer team, but the matches this weekend hold a stronger sense of purpose than just appreciation for the graduating class.
UW will pay tribute to all those impacted by breast cancer ahead of its match against No. 8 UCLA on Thursday. The Huskies have also chosen to honor assistant director Amy Wooten.
"It's such an honor," redshirt senior Olivia Sekany said. "So many of us have had friends and family touched by the disease and it really puts things into perspective that as much as this is a huge part of our lives, it is just a game."
Both players and coaches are invested in the celebration of survivors and those currently fighting breast cancer.
"We're going to kick off the week honoring breast cancer survivors and I think we're pretty pumped to have that inspiration and play for a bigger purpose," head coach Nicole Van Dyke said.
The Huskies (4-6-3, 2-2-2 Pac-12) have struggled this season, but with 14 seniors on the team, each of them has shown a massive amount of appreciation for the side and what the program has meant to them. 
"It's surreal," senior Ruby Hellstrom said. "I don't think it still hasn't hit that it's senior week. It's a really emotional week for a lot of us, we've been in this together… we're staying by each other's side and we're excited going into these games against UCLA and USC."
With 14 players listed as seniors or redshirt seniors, the team will be honoring many players who have been large parts of the program come Thursday. Some of the Huskies will be afforded an additional year of eligibility due to COVID-19 regulations and may return in the fall, but all current seniors will be celebrated nonetheless.
"It's a very big group so people need to show up like an hour early," Van Dyke said. "It's really not about celebrating one day. They're a high-character group and I think it'll be nice just to celebrate them with their families for their contributions over the last four years."
Those fortunate enough to return next fall also expressed admiration and appreciation for the graduating class. 
"I don't know if I can say enough," Sekany said. "Some of us are super fortunate to have one more year left, but truly some of the most incredible people I've ever met and I'm just so fortunate to have been able to come on this team and play with such an incredible group of people, on and off the field"
With some seniors uncertain as to whether they'll be returning to the field, those who will not have left a lasting mark on the Huskies' program.
Midfielder Ameera Hussen has been with the side since 2017, amassing a grand total of 10 goals and six assists in 79 games played. Fellow midfielder Olivia Van der Jagt has also been with the team since 2017, scoring 10 goals and contributing eight assists in her 83 games played.
Hellstrom has been on the team since 2018 with seven goals and two assists in 53 games. Her wing partner Karlee Stueckle joined in 2019 and has scored three goals and two assists in 49 games.
Despite the festivities, it won't be a walk in the park this weekend. Both of the LA schools remain undefeated in conference play, with UCLA (12-0-2, 4-0-2 Pac-12) ranked 8th in the country and undefeated, and USC (11-2, 6-0 Pac-12) currently sitting at the top of the Pac-12 after winning all six of its matches in conference play so far. 
"There's no fear going into this," Van Dyke said. "This is an opportunity to play against two top teams, increase the RPI, keep knocking off some teams so we can get ourselves in the tournament."
The Huskies remain confident that results will come their way, and following an impressive 4-1 win against the Arizona Wildcats, the offense may finally be clicking. 
"You gotta respect them and honor them," Hellstrom said. "But I think we're all really pumped, they're outstanding groups of girls, outstanding coaching staff, all those great things, so I think a lot of us are really excited for two great matches right around the corner."
This weekend's games kick off Thursday, Oct. 21 at 7 p.m. against No. 8 UCLA at Husky Soccer Stadium, followed by a match against USC on Sunday, Oct. 24 at noon. 
Reach reporter Rajan Hans at sports@dailyuw.com. Twitter: @RajanHans14
Like what you're reading? Support high-quality student journalism by donating here.