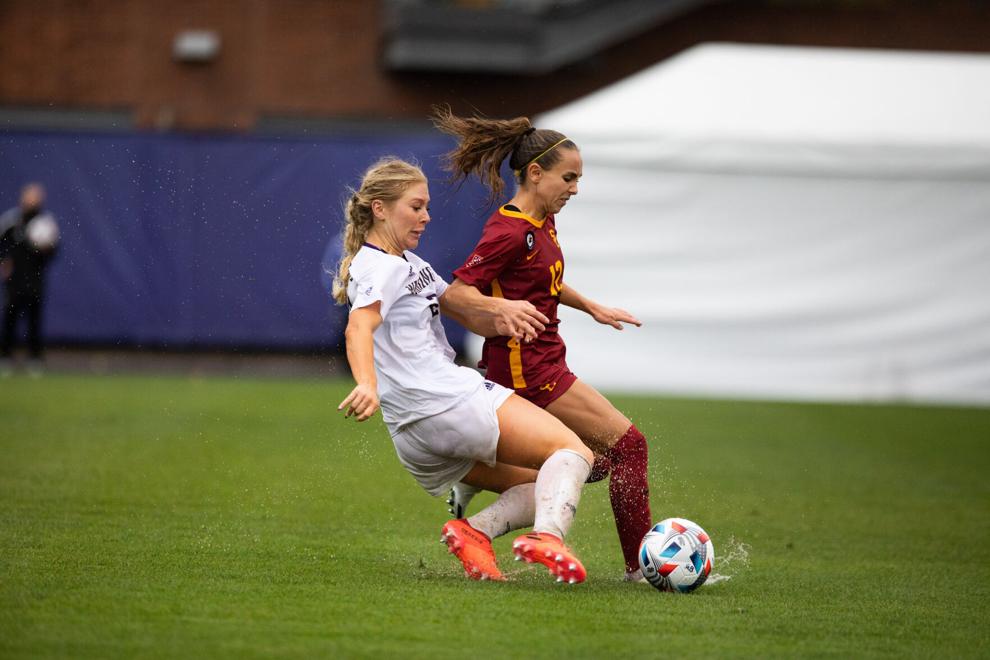 With buckets of rain pouring down on Husky Soccer Stadium, the Washington women's soccer team weathered a storm, quite literally, Sunday as it came back from a one-goal deficit twice to draw 2-2 in a tightly contested match with No. 5 USC.
"I'm just proud of the team," head coach Nicole Van Dyke said. "As the game went on and the conditions went on, it was obviously harder to pass, and had we not had that we could've built up some more."
The first half saw opportunities for both sides early into the match. Senior defender Kala McDaniel produced a moment of anxiety for the Trojans (11-2-2, 6-0-2 Pac-12) when her shot following a set-piece struck the bar. However, USC brought its own menace with a multitude of dangerous counters.
The breakthrough goal came in the 31st minute, as USC forward Bethune Croix found space on the edge of the box and fired home into the far right corner after driving past the Washington backline. 
Washington responded only a minute later, as a cross into the box was nodded on by senior forward Summer Yates into the path of junior forward Kyla Ferry, who deftly put away her first career goal and set UW in a position to accomplish a result after a poor run of recent form. 
Ferry's performance was highlighted by her goal but ran deeper than a contribution on the scoresheet. Ferry consistently peppered the USC backline, winning multiple challenges in the final third, and eventually reaping recognition for her efforts. 
"Kyla has just gotten better as we've gone on, and she was fantastic today," Van Dyke said. "She held the ball up, got in behind, scored the goal — she's been brilliant."
The first half signified a welcome difference from the Huskies' (4-7-4, 2-3-3 Pac-12) most recent match in which they conceded two unanswered goals en route to a 3-1 loss. On Sunday, Washington was able to settle into the contest, establishing an offensive rhythm revolving around an outside approach with a number of dangerous crosses coming from outside positions.
Come halftime, the match was even at one apiece, and it remained that way for an additional 20 minutes.
In the 65th minute, USC one again took the lead off a wildly confusing go-ahead goal. A slow rolling shot from Croix wrongfooted redshirt senior goalkeeper Olivia Sekany, giving Croix a brace on the night and propelling the Trojans in front.
Yet again the Huskies battled back almost instantly.
In the 68th minute, redshirt senior forward Mackenzie Weinert cannoned home her second career goal for Washington to equalize the game off a beautiful through ball from Yates.
The Huskies went on to hold their ground for the remainder of the match, controlling possession for a large chunk of the overtime periods and dominating the middle of the field. 
"I think we showed we're capable of playing with anybody," Van Dyke said. "It's maybe not a win on the [scoresheet], but it's a moral victory; there were moments where we could've gotten the game winner and there were moments where we defended really well, and I'm just really proud of the group."
Washington will go on its final road trip when it takes on Oregon State on Thursday, Oct. 28, at noon in Corvallis, Oregon, then on to Eugene against Oregon on Sunday, Oct. 31 at 1 p.m.
This article originally stated that Simone Jackson found USC's first goal, rather than Bethune Croix, which was incorrect and has been updated for accuracy. 
Reach writer Rajan Hans at sports@dailyuw.com. Twitter: @RajanHans14
Like what you're reading? Support high-quality student journalism by donating here.