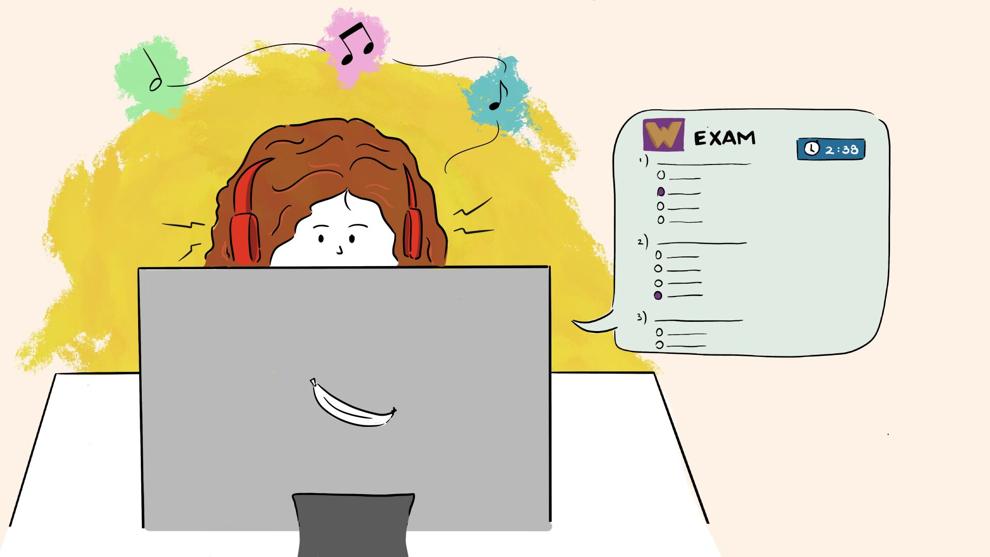 Imagine it's 11:55 p.m. and you have an assignment due at midnight. Are you listening to music? If so, what kind of music? Is it "relaxing lo-fi beats to study to" or is it rock 'n' roll?
A study from Mitzi Baker, a science and medical writer at Stanford University, showed that "music engages the areas of the brain involved with paying attention, making predictions and updating the event in memory."
All these things align with the skills needed for homework, studying, and test-taking. Music can also make you feel happy or help drown out other distracting noises.  
With finals season rapidly approaching, what are some tips and pitfalls that students should strive for or avoid like the plague while using music to boost studying practice? UW professor of music theory, Dr. Jonathan Bernard, personally avoids listening to music while grading or doing other work.
"If you ask any music professional, you'll get the same answer," Bernard said. "Music is too all-involving; any music that is suitable for background would be too distracting."  
However, Bernard agrees that music is an incredibly important part of life, though its benefits probably vary from person to person. 
"It's not just beneficial, it's necessary," Bernard said. "There have been days where I haven't listened to anything at all, but it's rare. It's something that we do without even thinking about it, it's just part of life. If it were missing, it would be more than a sad thing; it would be damaging."
For many students, listening to music is a crucial part of preparing for tests. Freshman Gabe Anderson said he prefers listening to jazz while studying. 
Fourth-year student Sunny Hu enjoys listening to different genres depending on the type of studying she's doing.
"I guess for me it depends on what exactly I'm doing; if I'm doing an essay I'll stick to instrumental or repetitive to make sure I can zone it out and focus," Hu said. "If I'm doing something that doesn't require words, I'll just listen to anything really, like EDM or pop."
A study at Stockholm University found that ambient music can help people with ADHD focus better, but even if you don't have ADHD, less intense music helps you continue your laser focus and makes it easier to not get off track. 
There are some genres that people just don't resonate with. For Bernard, this would be loud, distracting music: "Wallpaper music, the sort of thing that is New Age. It would be terrible to listen to it while trying to do work. It would be an irritant." 
While the preferred genre for listening while working may vary from person to person, the general theme is to stay away from music that is distracting or irritating.
"I like to avoid anything I want to sing along to; it's too distracting," Anderson said. 
So, as you're preparing to write last-minute essays and cram in last-minute facts, crank up the comforting, ambient music, if that helps you focus.
Reach contributing writer Max Meyers at wellness@dailyuw.com. Twitter: @fire_max72
Like what you're reading? Support high-quality student journalism by donating here.