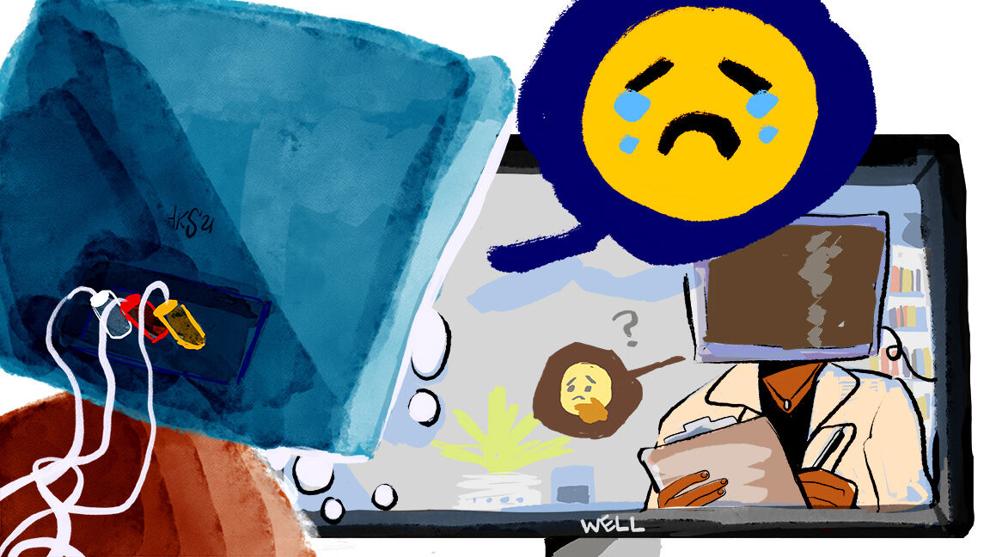 Attending school, work, and club meetings on Zoom is part of everyone's current routine. With new COVID variants spreading, and cases hitting a record high over the holidays, it's more important than ever that we continue to use online formats and avoid in-person contact. 
But what about other social interactions we have? What about therapy? For an interaction that is supposed to be so open, emotional, and intimate, sitting in my bedroom within earshot of my roommates and pouring my heart out to a screen feels detached and counterintuitive.  
It's also a strange experience on the other end of the interaction, explained Sam Krehel, a mental health counselor at Before You Step Outside. The pandemic invites universal hardships; clients are not the only ones coping with COVID.
"It's a really unique experience that therapists weren't necessarily trained for: to help a client through a traumatic experience that the therapist is simultaneously experiencing," Krehel said. 
Online therapy, unlike many other Zoom formats we're currently working with, is not new. Krehel saw clients remotely before the pandemic while working in community mental health services, but now sees all of their clients virtually. 
Noah ben-Chaim Greco, UW sophomore, had never attended therapy until March 2020. He grew up in a family where therapy and mental health issues were heavily stigmatized, but a difficult personal event prompted him to seek therapy last spring. 
Greco tried hypnotherapy via FaceTime, and it went, in short, terribly. 
"If you want to do hypnotherapy, your brain has to be empty; you have to dissociate and just let everything go," Greco said. "When I'm sitting there being concerned about the Internet connection … it doesn't work."
Victoria, a freshman at UW who preferred to be identified by her first name only, began therapy in the fall of 2019 and moved online in March 2020. She also attested to the logistical difficulties of online therapy. When she saw her therapist in person, her therapist could draw out diagrams and explain concepts interactively. Victoria would also show her things on her phone to help contextualize her problems. Over Zoom, however, neither of these practices work very well. 
"It sounds silly, but it was a big part of me explaining things or relating my real life back to things I wanted to learn, so not being able to bring up outside sources was hard sometimes," Victoria said.
Greco's experience with psychotherapy, specifically Cognitive Behavioral Therapy (CBT), over Zoom has been relatively positive, but he feels that his sessions are less safe and confidential than they were in his therapist's office. 
"I felt a lot more safe and secure in person, because obviously I was in his office and everything was being kept confidential," said Greco. 
After he returned home this past spring, he had to attend therapy within earshot of his parents and, later, his fraternity brothers. 
"There were things that would occur on my therapy calls that I wouldn't want them to know about me," he said.
Victoria agreed. She attended teletherapy in her car for the first few months of quarantine to avoid being overheard by her family. 
Don Schimmel, a psychoanalyst with a private practice in Mountlake Terrace, explained some of the positive aspects of getting to know his clients outside of the office. 
"Ironically, some of the teenagers I see on Zoom have opened up more and have adapted to Zoom in a way that I could have never predicted," said Schimmel. "They basically take me into their world because … the only way they can get away from their parents is to lock themselves in their bedrooms." 
At the UW, people are attending online therapy as well as online yoga, mindfulness, and meditation. The courses offered through UW recreation have been free for students since they moved online. 
Danny Arguetty is the director of UW Mindfulness at the IMA and the instructor of a section of GEN ST 297, "Be Real," a one-credit course on mindfulness and wellness. The transition completely online during spring quarter last year was rocky, but Arguetty eventually found that mindfulness practice, even if it was remote, was something people really needed at the beginning of the pandemic. 
"Not having that connection with people was very weird at first," Arguetty said. "But then ... I got feedback from students and faculty staff of how supportive this was, and this was a moment in their day where they can unplug or do something to recalibrate, to reboot." 
After the pandemic simmers down, Schimmel and Krehel will continue to offer remote services. Victoria plans on taking advantage of them. 
However, Schimmel thinks there could be some barriers to care that arise on the insurance end of therapy.
"Because [telehealth] provides more access to therapy; more access to therapy means bigger bills for insurance companies," he said. "They sing a great tune about how they're there for their customers … they really aren't." 
Reach reporter Katie Newman at wellness@dailyuw.com. Twitter: @katieinewman
Like what you're reading? Support high-quality student journalism by donating here.