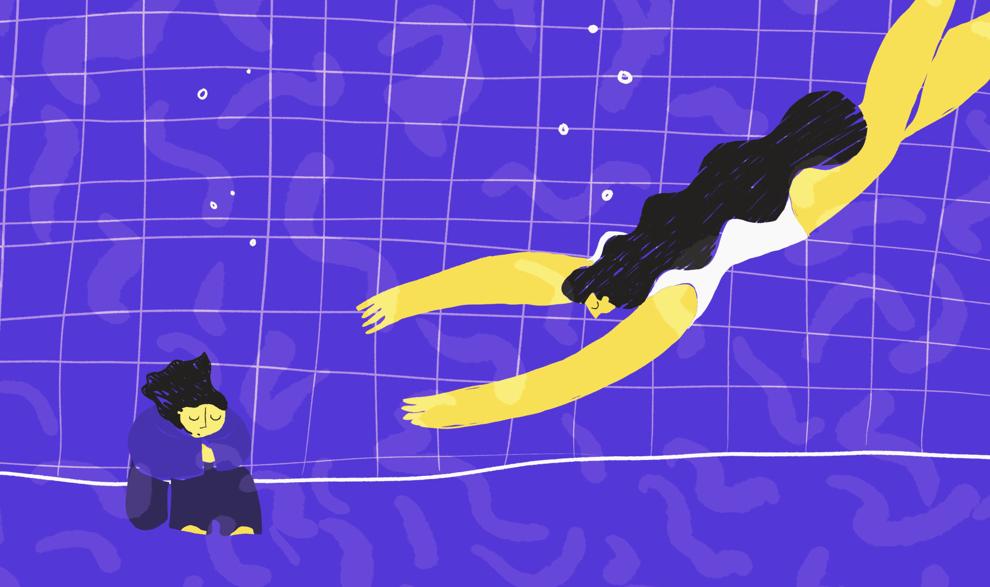 Patricia Ojendyke's son Seth graduated with a bachelor's degree from the UW with honors in psychology in 2008. It was then that his mental state began to unravel, and soon after, he had his first psychotic break. By 2010, he hit the depths of his psychosis. His mother felt helpless.
"I had to navigate the system on my own," Ms. Ojendyke said. "Once he had a psychotic break, he was put in jail."
She remembers feeling lonely and not allowing herself time to grieve for what felt like the loss of part of her son, who is now 35. She struggled for years, losing sight of who she was as a mother.
"I just feel like I've been at war for years," Ms. Ojendyke said.
It wasn't until earlier this month that Ms. Ojendyke felt what she described as the second beginning in her life: She attended the first ever training on cognitive behavioral therapy (CBT) for families of people with psychosis, hosted by UW Medicine and the department of psychiatry and behavioral sciences, known as Psychosis REACH.
"The training applies concepts and skills from CBT for psychosis and empowers loved ones to use these skills in their day-to-day lives," Dr. Sarah Kopelovich said. Kopelovich, who helped organize the training, is a professor in the department of psychiatry and behavioral sciences, a clinical psychologist at Harborview Medical Center (HMC), and specializes in CBT for psychosis.
CBT is a kind of talk therapy in which a mental health specialist works with someone to help them recognize negative or inaccurate thinking to increase mental clarity in difficult situations. It's often used to treat depression, post-traumatic stress disorder, eating disorders, and psychosis, the latter for which it is recommended by national schizophrenia treatment guidelines. Kopelovich works to increase the accessibility of CBT for psychosis in the United States by training mental health professionals. But until REACH, CBT skills had not yet been shared with family members and loved ones, who Kopelovich and her colleagues believe may benefit from such psychoeducation and strategies for addressing psychotic symptoms.
Kopelovich invited two instructors to facilitate the training, one of whom was Dr. Doug Turkington. Turkington has practiced psychiatry since 1989 and was critical to the development of CBT for psychosis. Originally from Glasgow, he now practices at Newcastle University in the United Kingdom. The second instructor was Kate Hardy, a psychologist and expert trainer in CBT for psychosis at Stanford.
Kopelovich and Maria Monroe-DeVita, also a professor in the department of psychiatry and behavioral sciences and clinical psychologist at HMC, spoke over the course of the four-day training event. Kopelovich and Monroe-DeVita both conduct research on first-episode psychosis and CBT-based intervention for psychosis and schizophrenia.
"The impetus for the training really came from a few places," Kopelovich said.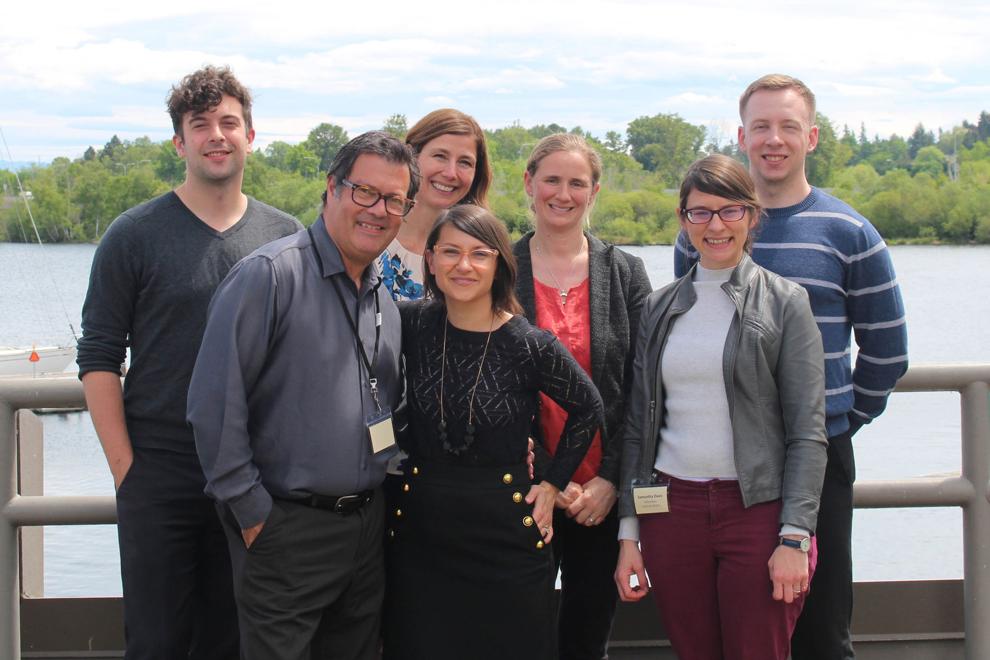 Monroe-DeVita and Kopelovich are together developing the Family Bridger program, which they hope  will "formalize a role for a family member within a hospital setting to really work one on one with family members when their loved one is in the midst of a psychiatric crisis," according to Kopelovich.
The Family Bridger Program is one part of a multi-pronged approach to psychosis treatment that UW Medicine is testing that also includes the REACH training, supporting a statewide network of first-episode psychosis programs, and a recent study on smartphone-based behavioral monitoring to help with the early detection of schizophrenia relapses.
These programs work in tandem to create a strong support network for people with psychosis in Seattle, making Washington state the perfect place to launch Psychosis REACH, according to Kopelovich.
"We have a whole suite of programs that are designed to support individuals with psychosis and their recovery, the clinicians who are working with them, and now, the family members," Kopelovich said, allowing clinicians to align all the necessary resources in more accessible ways.
REACH, specifically, is geared toward building a cohort of families of people with psychosis, encouraging people who may already serve in that Family Bridger role to also act as support systems for newer members of the community surrounding psychosis, Kopelovich said.
The other goal of the class, according to Kopelovich, was that this network can spread the use of CBT through the community surrounding psychosis.
"We have this intervention, cognitive behavioral therapy for psychosis," Kopelovich said. "It's over 25 years old. We have over 50 clinical studies documenting its effectiveness. But it's incredibly hard to get, and I'm working to change that in the state by training more clinicians, but we need family members. We need to enlist family members as part of our mental health service corps, because they really are at the frontlines."
–––––
One hundred and eighty-three family members and loved ones of people with psychosis gathered in the HUB South Ballroom on May 14, the first day of the trainings, for a one-day intensive on CBT.
Loved ones of people with psychosis travelled from all over the state to attend, from the Olympic Peninsula to Spokane, though many were from Seattle.
On the morning of the first day, the instructors asked attendees to describe their loved ones' condition with one word. Ms. Ojendyke wrote down "chaos" on the piece of paper in front of her.
At the core of the event was normalizing psychosis and schizophrenia. Turkington asked the group if they had ever seen a ghost. After a moment of silence, he smiled and asked, "You're not so sure about that, are you?"
He encouraged attendees to extend this same kind of genuine curiosity when talking to someone experiencing delusions.
Turkington also explained that people with psychosis and their families can avoid hopelessness through the normalization of mental illness and by looking at underlying causes for psychosis, like drug use, sleep deprivation, and trauma.
"You've got to enter that arena of thinking," Turkington said of the first step to understanding someone with psychosis.
The following three-day intensive in the Waterfront Activities Center saw 29 family members, about 25 women, and a handful of men selected from the original 183 attendees through a preliminary survey. Family members were asked about their previous involvement with the mental health community, whether they'd be interested in maintaining a relationship with the community event organizers had hoped to create in the future.
By this point, Ms. Ojendyke was already beginning to notice a difference in her outlook on her son's mental health.
"'Chaos' is what came to mind on Monday. Tuesday? It was 'hope,'" she said in reference to the first morning's writing exercise.
The class itself sought to normalize psychosis. "Most people don't realize that psychosis is an incredibly common experience," Kopelovich said. "Things like hearing voices that other people can't hear, or seeing people or things that other people can't see, or having unusual beliefs. We don't talk about those experiences, so they seem unusual and uncommon. Part of what we do in this training is talk about just how normal those experiences are, so that our family members can normalize these experiences for their loved ones and not be shocked by them."
The instructors also wanted to normalize schizophrenia and psychosis.
"Part of it also is to talk about the fact that schizophrenia is a treatable condition," Kopelovich said. "Recovery from schizophrenia is the norm, and most family members don't learn that. Most family members get the message that schizophrenia is essentially a terminal illness, that the person may never work again, that the person will be dependent on them."
Mentions of psychiatric medication elicited starkly different reactions from different people. Some thought doctors over-prescribe certain medications, others felt some doctors are too reluctant to prescribe necessary medication, especially when they fear a patient won't adhere to them or suffer from side effects, as in the case of clozapine.
One mother shared the personal experience of her daughter as she progressed through psychosis and how clozapine helped. Her daughter had a psychotic break at 17 and struggled to get a consistent diagnosis.
Once a doctor got her on clozapine, "she said she got her brain back," said the mother. "And then she got her confidence back." Other family members chimed in with their own experiences and emotions.
Because of the risk of one possible but relatively-rare side effect known as agranulocytosis (the breakdown of white blood cells), Clozapine protocols require weekly blood tests for the first six months, something Turkington said American doctors seem reluctant to ask their patients to adhere to. However, Turkington mentioned 25% of people whose symptoms failed to respond to other antipsychotic medications would recover from psychosis on clozapine.
The overall message on medication?
"Medications are still the front-line treatment for schizophrenia spectrum disorders and work best in conjunction with treatments like CBT for psychosis," Kopelovich said, "but they are often the only treatment offered, and may be prescribed in ways that do not align with practice guidelines."
Turkington suggested psychiatrists should try no more than two antipsychotic medications before turning to Clozapine. If the first two medications don't work, prescribers should work with individuals and families to encourage them to start a Clozapine trial period.
Luis Viquez, who attended the class to learn how to better support his boyfriend, who has schizophrenia, appreciated that the class demonstrated the need to balance medications with therapy.
In his experience, psychiatrists seemed prone to relying heavily on medications for treatment. "There's a huge emphasis on pharmacology as the solution, which I don't think is the solution."
Turkington also discussed the use of non-prescription drugs, particularly the potential harm young people could face from the use of hallucinogens while their brains are still developing.
"Acid is a powerful hallucinogenic. A lot of people can take it and be OK, but if you're vulnerable, it could trigger psychosis," Turkington said, adding that a family history of psychosis and past trauma can both leave someone vulnerable. He also warned against ketamine: "That's a horse tranquilizer!"
Hardy recommended that if symptoms of hallucinogens persist in the absence of the drug, "knowing the signs of early psychosis and knowing how to get help and what that help should look like" could help with early intervention and treatment.
She stressed that the earlier the psychosis is caught and treated, the better the chance of recovery. Even if someone isn't hearing fully formed voices or is just hearing their name being called when it's not with increasing frequency can mean that it's time to talk to a professional, according to Hardy.
–––––
Following several heart-to-heart group discussions like the one on clozapine, interactive lectures with Turkington and Hardy, and role-plays to demonstrate how someone might deal with a family member having delusions or a crisis, Ms. Ojendyke felt as though she had been reunited with her son.
"I don't want to do the wrong thing, but I feel like I got enough information to do small things," she said, sitting down with me at the end of the last day.
Another attendee interrupted to hug her, and Ms. Ojendyke said, "Bye sweetheart, it was good to meet you, we will see each other again!" Earlier that day, Ms. Ojendyke had requested that the instructors pass around a list for attendees to add their contact information to keep in contact. She seemed to have made many friends.
The group also agreed to keep in contact through monthly phone calls led by the clinicians. These phone calls would enable attendees of the event to apply what they learned in the class with family members and then provide feedback on what worked and what didn't. It would also continue the much-needed camaraderie.
"I've been alone in it for so long," Ms. Ojendyke said. "I want to give myself a pat on the back because it's been really hard."
Overjoyed, she began to cry. "It feels like the second beginning to my life."
Ms. Ojendyke felt hope, both for herself and for her son. "The biggest thing for me is to take care of myself," Ms. Ojendyke said. "The next thing is to practice patience and listen. They know when they're not being listened to. They know when you're placating them … I want to engage. I want to ask questions. I really want to get to the base of his psychosis … I want to understand where it came from and help him out."
Other attendees also saw Psychosis REACH as a constructive experience, but offered some ideas for the future.
"I wish these trainings happened more often," Viquez said. "And also in other languages."
He suggested the training be broadened to include instructors from other cultures and languages to increase inclusivity and broaden the community with each passing year.
"I just don't know why it took so long for it to happen," Viquez said. "There's a lot of joy and enthusiasm, there's also a lot of pain and uncertainty when you deal with a loved one in this situation. But this gives you hope. It gives you the reality check that you're not alone." 
Reach health & wellness editor Manisha Jha at wellness@dailyuw.com. Twitter: @manishajha_
Like what you're reading? Support high-quality student journalism by donating here.