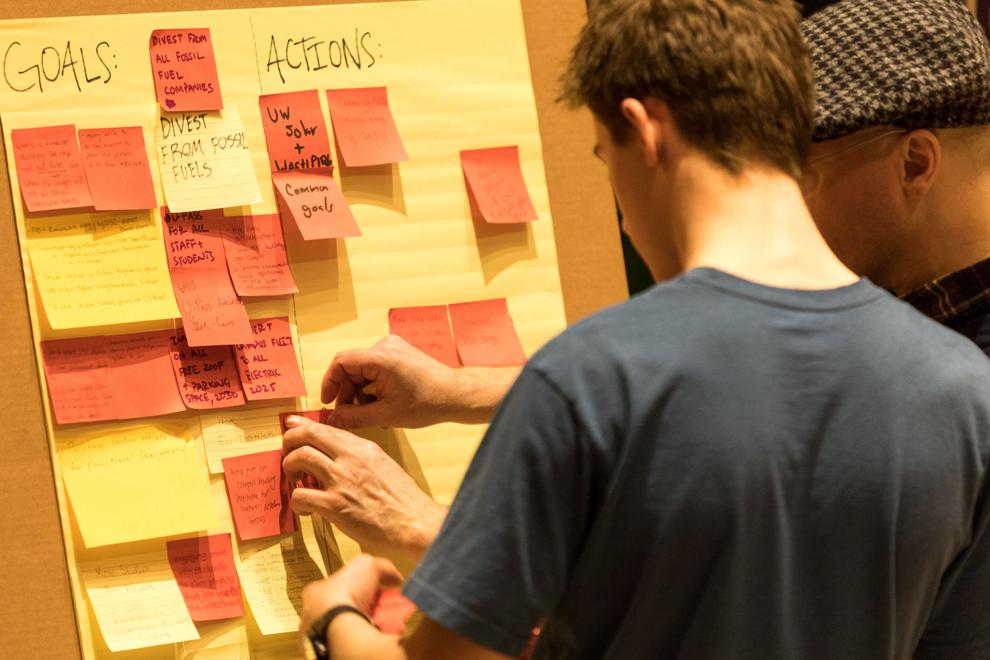 Dozens of students came to the Intellectual House Monday night to brainstorm sustainability ideas to pitch to the University of Washington's sustainability plan. Students created goals and action plans that would fit into the UW's existing plan of decarbonization, equity, education, and research. 
The student forum was organized by the Sustainability Curriculum Coalition (SCC) with support from the Campus Sustainability Fund and UW Sustainability. The SCC is a registered student organization that was founded in the winter of 2019 by then-senior Jasmine Leung, who wanted to add a required sustainability course to the UW curriculum. 
A required course seemed a popular idea among students at the forum. Several expressed a desire for more education and responsibility from professors and departments at the UW.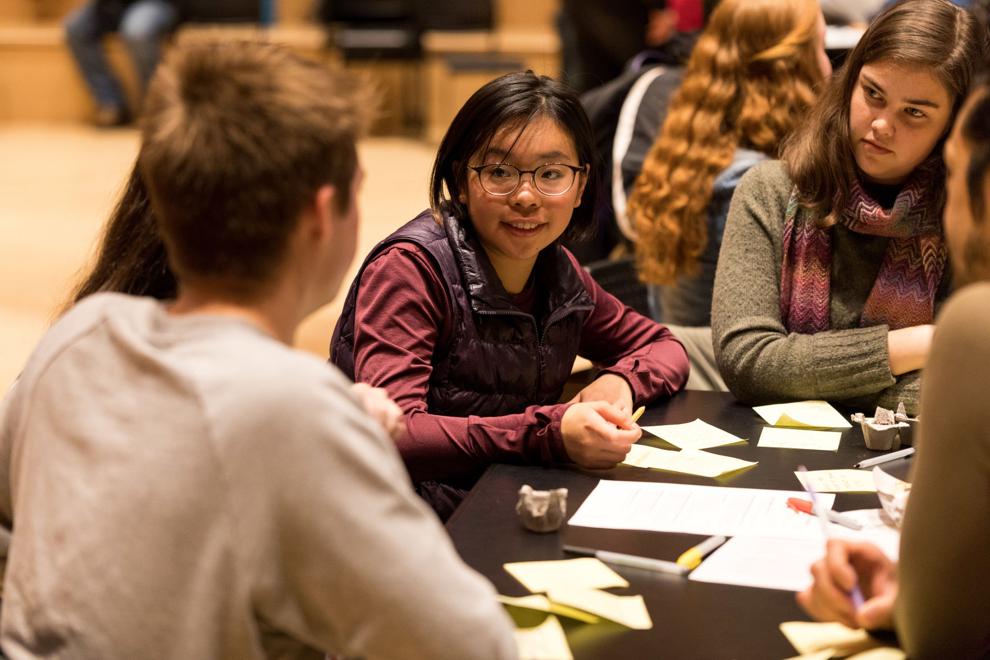 "I don't think any of it should be put on individuals," SCC co-director Emma Wilson said. "But I think the best thing that you can do for yourself is try to expand your mindset on sustainability and look at what you're participating in and how it can be changed."
The ideas generated at Monday's forum will be collected and presented to the creators of the UW's sustainability plan, but Wilson and her SCC co-director Anya Gavrylko said they could not promise that students' ideas will be included in the final plan. 
The Intellectual House was filled with RSOs and project teams who tabled before the discussion session began. All of them had sustainability-oriented goals, and all are looking for more student participation. 
Some groups focused on recycling matters, like Precious Plastic, a group that molds recycled plastic for 3D printing. Others focused on creating more dialogue and community engagement around sustainability, like the Student Association for Green Environments (SAGE), a female-founded RSO.   
The UW Farm grows produce on campus at Mercer Court and the Center for Urban Horticulture. Their produce is used throughout campus at cafes and dining halls, but they want to increase the use of locally grown produce on campus even more. 
"I think there should be a big push for local produce in our local cafes and dining halls," UW farm education coordinator Natalie Schwanz said. "It's grown here, it should be eaten here." 
The environmental appeal of locally sourced food is a decrease in the carbon emitted by shipping food across the state or even the country. 
An aspect often overlooked when proposing sustainability measures is equity. 
"Environmentalists talk about sustainability with a certain person in mind," Perla Moran said. She described a middle-class white REI shopper, someone she has seen on tons of sustainability posters and websites. "Seeing more people of color would make me feel more welcome." 
Moran wants more speakers and researchers of color to be involved in public environmental events like the UW Student Sustainability Forum so that students of color will feel more comfortable engaging and participating in sustainable practices. 
The UW's sustainability plan is not set to be released until Earth Day 2020, but students can get involved now, either through RSOs or by demanding time in class to discuss environmental issues. 
Reach writer Eddie Milton at wellness@dailyuw.com. Twitter: @eddiemilton253
Like what you're reading? Support high-quality student journalism by donating here.