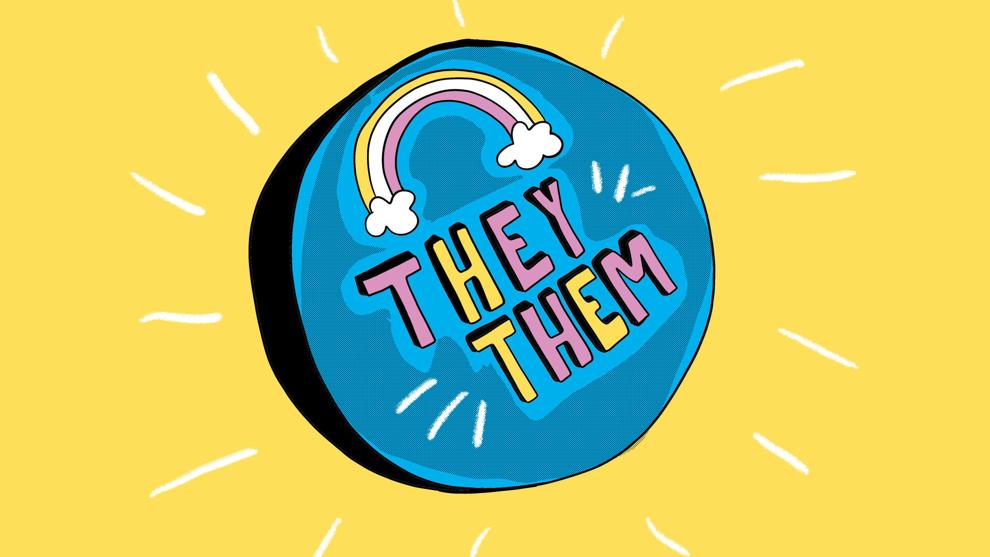 There are many genders besides the two most people in the United States are familiar with, and people's genders can be just as unique as their thumbprints.
Activists have a long history of fighting to make the UW a more inclusive place. One way to keep improving inclusion on our campus is to celebrate folks' unique identities and perspectives. So, let's talk about genderqueer or non-binary identities and the resources available to students and faculty who are non-binary.
"Non-binary" is sometimes used as a description of an individual's gender identity and other times used as an umbrella term to include many other gender identities that do not fit into the gender binary.
Everyone has a personal relationship to their gender and there are many ways to express one's identity.
Visibility and inclusion of all gender identities, including non-binary gender identities, is important because non-binary folks face unique challenges. The National Center for Transgender Equality did a survey in 2015 that found survey respondents, which included both transgender and non-binary people, experienced "harassment and violence at alarmingly high rates."
In addition, the survey found that 29% of respondents were living in poverty, compared to 14% in the U.S. population. Thirty percent of respondents reported having experienced homelessness in their lifetime.
The erasure of and discrimination against transgender and non-binary folks impacts their health: A startling 23% of respondents reported not seeking medical care because of fear of mistreatment, and another 33% of respondents did not seek medical care because they could not afford it.
Director of health promotion at Hall Health Center, Patricia Atwater, explained how Hall Health is working to be inclusive of non-binary folks and meet their specific needs. Hall Health Center is one location on campus that distributes pronoun buttons that can be helpful to folks who want others to know which pronouns they use.
"Trans and non-binary people face discrimination and erasure in all realms of their lives, but particularly in health care settings," Atwater said. "Hall Health seeks not just to include, but to affirm all people's identities as they seek care with us. We make pronoun buttons available to facilitate conversations about gender between students and staff and to normalize gender diversity."
When people of all genders wear pronoun buttons regularly, it helps normalize having conversations about gender. This leads to a more inclusive environment for all people.
Definitions are OK places to start understanding non-binary people, but the best way to learn about them is to listen to them.
Luckily, there are non-binary content creators who are willing to share their experiences and create resources for others. Vlogger and author Ash Hardell is one such content creator, and they have a YouTube channel as well as two books. Hardell's book, "The ABCs of LGBT+" offers information to anyone wanting to learn about gender identity and sexuality.
There are numerous places to learn more, starting with the UW First Year Programs' webpage regarding diversity and inclusion on campus, where students and faculty can learn about pronouns, why sharing your pronoun is helpful to the whole community, and resources on campus for students.
One great resource for members of the UW community who may be questioning their gender is the UW Q Center.
"The Q Center offers a physical space where LGBTQ and questioning and allied students can come spend time, get connected with resources, [and] meet people," Q Center advisor, Lev Cunningham, said. "It's a great place to find support and do some identity exploration and development."
As counseling services coordinator at the Q Center, Lev provides general support for people and can give referrals to students who want to discuss their gender and sexuality with trained professionals. Lev facilitates the gender discussion group at the Q Center, which meets Tuesdays from 4 to 6 p.m.
"Gender discussion group centers the experience of trans and non-binary students," Lev said.
For more resources, the Q Center offers a chart with unique resources for students, faculty, health care providers, health organizations, and anyone looking for help. Check out their web resources here. 
Reach reporter Midori Friedbauer at news@dailyuw.com. Twitter: @MidoriNileah
Like what you're reading? Support high-quality student journalism by donating here.