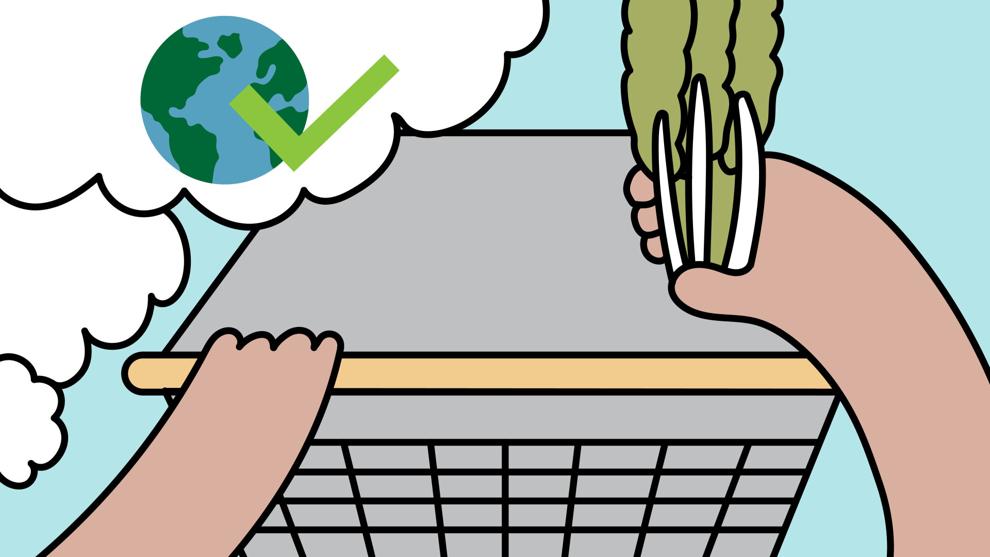 One of the most difficult things to figure out in college, aside from your actual major, is how to cook for yourself. For most of us, going to college is the first time we're moving out of our parents' homes, preparing meals, and just generally living on our own. Learning how to shop for food on a budget can feel like a mountain to climb.
Something that often gets overlooked as we're going through this learning process is shopping sustainably. There is a prominent myth that shopping sustainably is expensive, but you can definitely accomplish it on a budget, and it may even help you save money.
Avoiding impulse buying is the first step to shopping more sustainably, as you ensure that all the food that you purchase is something that will be consumed rather than left to go bad. A good first step is to avoid shopping on an empty stomach. Grocery shopping while hungry has been found to lead to poor purchasing decisions which fulfill temporary cravings rather than being nutritionally valuable, according to the American Society of Plant Biologists. In contrast, shopping soon after a meal will help you make more thoughtful purchases.
Along with not shopping on an empty stomach, meal prepping and making lists ahead of time can both help you stick to a budget and lead you to create more intentional purchases. Both of these tasks help take the guesswork out of grocery shopping and will steer you away from impulse buying.
Consider buying from local grocers and farmers markets, joining a local food co-op, and buying in bulk when possible, all of which go hand-in-hand with avoiding impulse buys and meal prepping. 
Planning to go to local farmer's markets and grocery shopping on certain days of the week can help limit impulse purchases while supporting local farmers and vendors. By keeping to a shopping schedule, you can try to cook with and eat the food you already have in your pantry between shopping days to limit food waste. 
For most UW students, the closest farmer's market is the University District market, which is available on the Ave every Saturday morning from 9 a.m. to 2 p.m. year round. Other markets close to UW include the Capitol Hill market, Ballard market, and Pike Place market, all of which are a short bus or light rail ride away.
Although joining a food co-op can seem expensive or intimidating, there can be many benefits, including discounts and cooking classes, and it may be a more achievable option than going to the farmer's market for many students due to scheduling. Puget Consumers Co-op (PCC) is the largest food co-op in the greater Seattle area and offers many sustainable money-saving options. The closest PCC locations to UW are in Greenlake and Ballard.
"PCC membership is a great way for students to save money at the co-op," Kristen Woody, senior communications manager for PCC, said.  "While there is a one-time cost of $60, it provides membership for a lifetime and in addition to a cooking class discount, members get offers to exclusive deals and partner offers."
Buying in bulk is another option to consider when trying to shop more sustainably, but this looks different for everyone as it largely depends on your living situation. If you live with roommates, it might make sense to shop in bulk for meat and produce. If you live alone or with fewer roommates, buying bulk dry goods such as pastas, grains, and nuts might make more sense. 
Buying in bulk often reduces packaging waste and means you can bring your own containers to fill, which are later weighed at checkout.
"An easy way for college students — or really any shopper — to make the most of what PCC has to offer is to shop bulk, our not-so-secret weapon," Woody said. "Bulk is great for many reasons, mainly because you can buy the amount you need or try something new without having to invest in a full-size product. It's great for the budget and a smart, sustainable choice because it helps in reducing packaging." 
Lastly, and perhaps most simply, is to remember to bring your own reusable bags. Everyone has heard this tip, but when it comes to actually doing it, many people are forgetful. Keep your reusable bags by the front door or, if they can be folded up, tucked into your backpack or everyday bag to avoid forgetting them as you head to the grocery store.
Taking these steps to shop more sustainably is a great way to help the environment while supporting local businesses, and overall making better purchasing decisions for yourself. Building these habits while you are first learning to cook and provide for yourself is much easier than trying to change wasteful habits later on — so here's your sign to make the change.
Reach writer Kalina Mladenova at wellness@dailyuw.com. Twitter: @kalinamm_
Like what you're reading? Support high-quality student journalism by donating here.