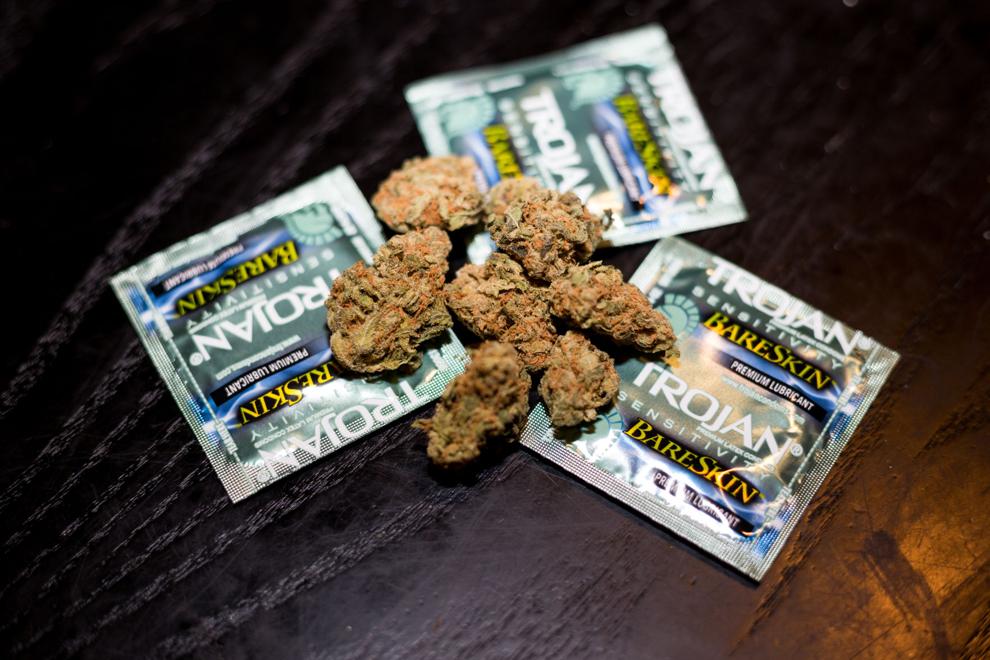 The love affair between sex and weed, dually stigmatized and (sometimes) cheeky, has been acquainted with the realm of science. The results show that women are winning at orgasms.
Researchers in St. Louis, Missouri conducted a study in which 373 women self-reported their sexual experiences for over a year by way of a confidential questionnaire. Out of subjects who integrated cannabis use prior to sex, 68.5% found more pleasure in their sexual experience, 60.6% noted an increase in sex drive, and 52.8% reported a greater number of satisfying orgasms.
The researchers found that women with frequent marijuana use were overall more than twice as likely to report satisfactory orgasms than those with infrequent marijuana use, regardless of use before sex or not. Pain during intercourse was reported to decrease as well.
Ashley Manta, a sex educator and relationship coach who has integrated cannabis into her practice (and coined the term "CannaSexual"), shared her thoughts on the study in a phone interview.
Manta has spent the last four years talking about cannabis in relation to sexual experiences, and has felt a sense of achievement to see those trends reflected in data. "If this is something that you want to engage with, then there are a lot of ways to do it well," she said.
Chelsea Cebara is a Seattle-based sex educator and experienced budtender who helped to develop Velvet Swing, a brand of water-based lubricant infused with cannabis.  
"When we're faced with this prohibition, when we're not able to study [cannabis], we look at the mass amounts of anecdotes we have, and at some point you realize something has to be going on," Cebara said.
Researchers for the St. Louis study stipulated a number of possible explanations for the results, including a decrease of stress and anxiety, heightened sensations, and relations between cannabinoid receptors in the hypothalamus with the release of hormones. Use of cannabis is also known to increase the production of the neurotransmitter dopamine, another factor by which marijuana can affect sexual function.
"We need science with sensors and biofeedback and we need science with self-reported data and we need science where there's double-blind studies," Manta said.
"The Catch-22 has been [that] it's a Schedule I narcotic, so we can't make it available for research," Cebara said. "But there's no research, so we can't take it off the Schedule I narcotic list."
In working to understand the complex relationship between cannabis and sexual function, both Manta and Cebara have found that reactions may vary depending on the person.
"There's between 85 and 120 known cannabinoids," Cebara said. "So there's that many different interactions, not to mention terpenes, flavonoids."
The study did not address the wide variation in cannabis use. Neither did it examine the timing and quantity of marijuana used, whether it was used in conjunction with other drugs, and the context of the sexual relationship.
Cebara also expressed concerns for a lack of a discussion of consent within the community.
"There's not a meaningful discussion about consent in the cannabis sphere like there is when we talk about alcohol," she said. "You need to have that intentionality around it and have that conversation before you start playing."
"If you're with a partner, I tell people to negotiate before you medicate," Manta said, in regards to consent. "Absolutely have a baseline of this is what [cannabis] we're choosing to use, this is what we're going for, this is what's on the table, this is what's not one the table."
Both Manta and Cebara recommend engaging cannabis with sex on an individual level prior to integrating a partner.
"After [consuming cannabis on your own], physically sit down and write a journal entry of this is what I used, this is how much, this is how long it took to kick in, and this is what my experience was," Manta said.
"I think we're 100% on the upswing," Manta said in regard to learning more about the interactions between cannabis and orgasms. The study itself established a need for a greater look into the endocannabinoid system in order to possibly treat female sexual dysfunction in the future.
Reach writer Christina Ramler at wellness@dailyuw.com. Twitter: @christina.rival
Like what you're reading? Support high-quality student journalism by donating here.