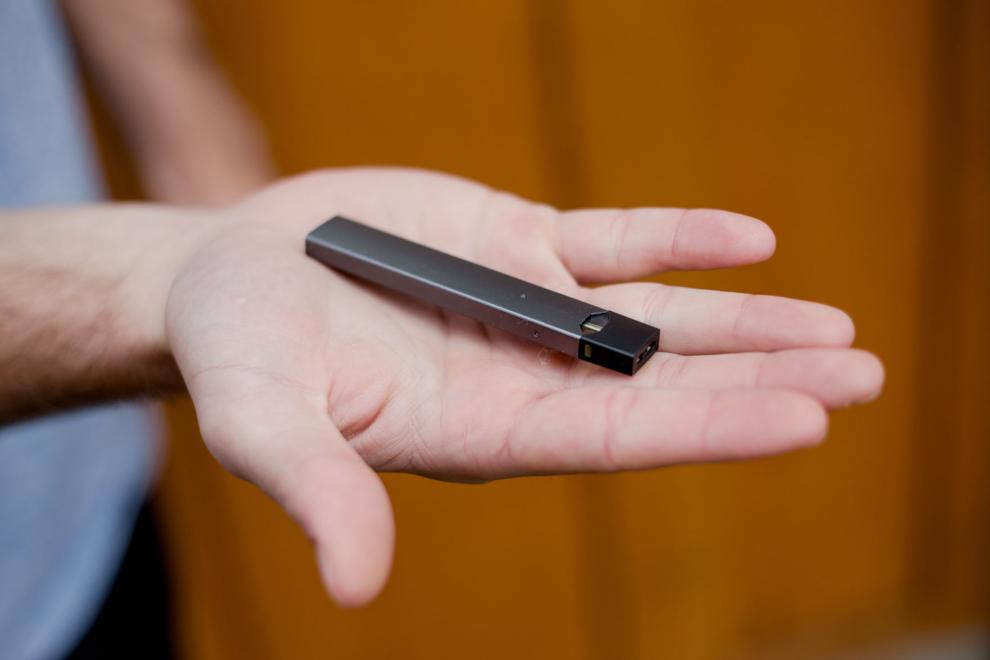 A Juul's sleek design may look sophisticated from the outside, but don't let that fool you into thinking your body isn't being harmed in the process. Just because a Juul tastes better than a cigarette, doesn't mean it's healthier for you.  
"We know that the nicotine in Juuls is very concentrated," health education and outreach specialist at the Washington Poison Center, Arti Patel said. 
"If you have a 50 milligram pod with a 1.5 milliliter pod system, it would be equivalent to just about half a pack of cigarettes, but that's until the whole pod is completely finished," Alexis Guerrero, a manager at Beyond Vape on the Ave, said. 
Johnathan Gaona, a sophomore at the UW, said that he goes through about a pod a day. While this may not be every UW student, it's easy to see Juuling as a developing trend, and one pod a day is a dangerous amount. 
"It definitely took a lot of thinking about it to get a Juul because when you get a Juul, you're pretty much accepting that you're going to get addicted to nicotine," UW sophomore Jon Samos said. 
Samos and Oliver Speltz, a senior at the UW, showed me a bottle half full of Juul pods.
"We're going to quit when that bottle fills up," Samos said.
Many people may share the same idea that they just want to try it, but quitting isn't that easy. 
Even if someone smokes a Juul irregularly, "there is still a defect on the brain, and people still develop the nicotine pathways that will stick with them for a very long time," Patricia Atwater, director of health promotion at Hall Health, said.  "We know that nicotine changes people's brains forever. It becomes a chronic disease because your brain changes in such a way that you, for the rest of your life, are going to be susceptible to nicotine cravings and cravings for cigarettes." 
Juuls are becoming increasingly popular among youth because "college students do not think that vaping is bad for them," Atwater said. "We see people who weren't using combustible cigarettes taking up vaping, so the concern is that people who start vaping it can serve as a gateway, for lack of a better word, to combustible cigarettes."
Patel said that the Washington Poison Center received one call relating to the overuse of the Juul.  
"The symptoms were seizure, nausea, and vomiting," Patel said. 
Both Atwater and Patel said that Juuls are dangerous because they are extremely addictive. They also commented that because there is not enough research on e-cigarettes, Juuls could have a whole new negative effect on the body.  
"Because e-cigarettes are completely unregulated by the Food and Drug Administration, they can contain a lot of bi-products such as metals, chemicals, and other things that could be harmful to people," Atwater said. 
Though some people may actually not know the effects of nicotine addiction, in some instances, people simply don't care. 
"If people want to quit vaping, we can offer them, at no cost, a nicotine replacement therapy, so patches, gum, lozenges and they can come to me to get that and we can talk," Atwater said. "Wherever they want to start, maybe they just want to start by having a conversation, and then we can support them however they want to proceed."
Reach contributing writer Julia Dallas at development@dailyuw.edu. Twitter: @juliaaadallas