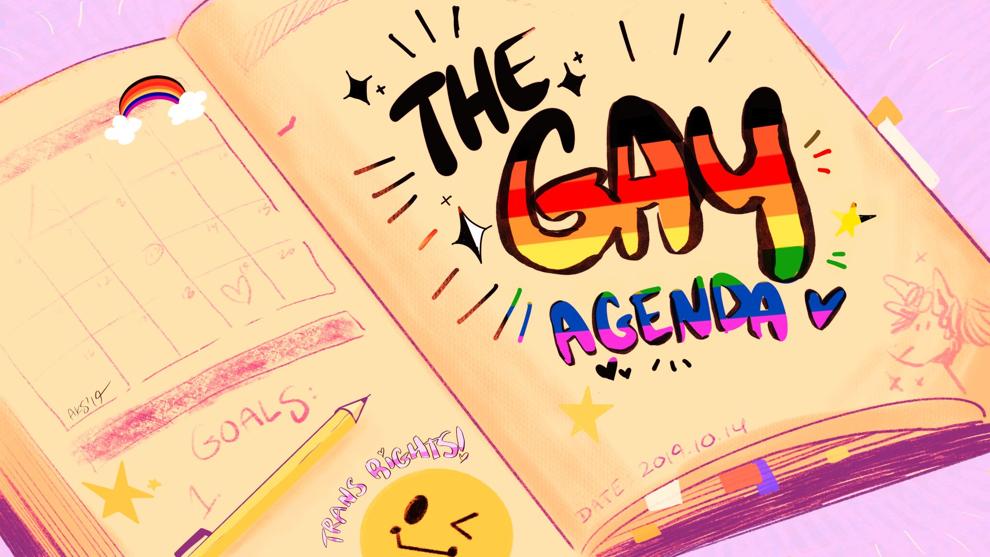 Editor's note: The Gay Agenda is a column about LGBTQ experiences and issues.
For the past couple months, it seemed like a few times a week I would see a tweet about how being in quarantine made someone confront, admit, or re-examine their gender or sexual orientation. 
In a time of high LGBTQ visibility and awareness (think: "Queer Eye," Laverne Cox, Kristen Stewart), what was it about quarantine that sparked this examination in so many people? 
A UW junior, who prefers to remain anonymous, said the alone time helped her admit her pansexuality. 
"Just being alone and having time to think about it has kind of helped me come to terms with it a little bit more," she said. 
Time in isolation has often led to new hobbies and interests, but new identities? With ample time, fewer distractions, and less public scrutiny, this student had the time and comfort to reflect on herself. 
"When you're kind of alone, I guess you don't have to tell people, 'This is who I am,'" she said. "I can just personally admit it to myself without worrying about other people." 
Escaping from the public eye is also what caused Twitter users @Superdillin and @KOOBlPRINT to reassess their genders. And this pattern begs the question, how much of our gender and sexuality is consciously or subconsciously formed by societal pressures and norms? 
If being removed from society for a few months has caused widespread realizations, how are our perceptions of our identities influenced by societal pressures?
"I am a strong believer that behavior is informed by societal norms and societal standards," Q-munity co-President Aman Agarwal said. "When we stop getting all these cues and examples from people around us of how to deal with identity and sexuality, we start looking for our own solutions." 
While time for self-reflection and self-care is important, quarantine and isolation can get lonely. This is even more true when you can't connect in person with people of similar identities.
"My whole life, I've only met one other pan person," the anonymous junior said. 
As we've seen for months, too much time alone can lead to other negative situations, like boredom and depression. 
"I like to think of my RSO as a place where you can make mistakes and ask questions and how it's a safe space to explore whoever you are," Agarwal said. 
As virtual classes resume, newly out or questioning students are faced with a unique struggle. Finding friends and clubs can be hard enough in person, but now these meetings also lack the in-person element, making connection even harder. 
Agarwal's RSO, Q-munity, has shifted to virtual events and meetings for the quarter and is excited to welcome new students, even if they are still figuring out their identity. 
"We have some members that don't completely understand their entire identity and they just need time," Agarwal said. "But it's also just a space where you can hang out with queer people." 
Coming into these new identities can be challenging and scary. For many, it took months alone to come to terms with new labels or communities. But being comfortable with yourself and finding your people can also be empowering.
"This is who I actually am," the anonymous junior said. "Nobody can tell me more about myself than I can." 
Reach columnist Eddie Milton at wellness@dailyuw.com. Twitter: @eddiemilton253
Like that you're reading? Support high-quality student journalism by donating here.