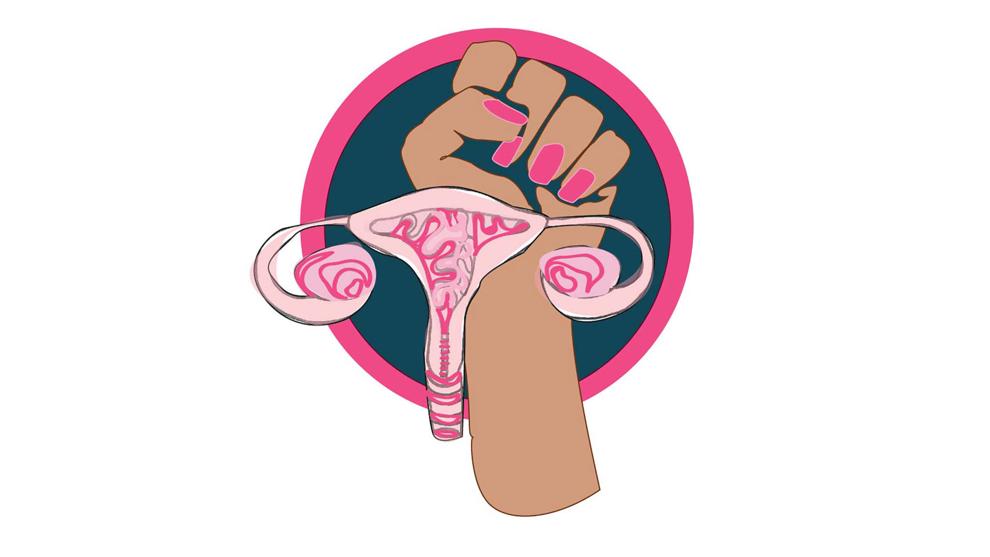 Every one of us has life-altering moments — moments we all can look back on and remember when we could feel the Earth shift, feel our own selves shift, and remember those moments before as just that: "before."For those living with cancer, a diagnosis is the beginning of "after": a race to survival, filled with fear, depression, anxiety, and other complicated emotions.
But confusion is what Dr. Kemi Doll, a gynecologic oncologist in the department of obstetrics, describes the women she treats as they grapple with a diagnosis of endometrial cancer. Though this is the most common gynecologic cancer, affecting one in 37 women, most people have not heard of it. This cancer, if diagnosed at a stage of localization, has a five-year relative survival rate of 95%, but studies conducted by Doll have shown that black women have a 90% higher mortality rate than any other group of women. So why does a patient's survival depend on their race? 
The Endometrial Cancer Action Network for African-Americans (ECANA), an organization dedicated to improving the lives of black women affected by endometrial cancer, is working to answer this question and exploring how we can bridge this gap. ECANA maximizes its outreach by functioning as a 360-degree approach: providing reproductive education and community for black women, advocating for increased awareness and training among providers to promote culturally competent and sensitive care, and emphasizing research with the goal of improving the lives of black women.
This begins with looking at the causes of these racial disparities. The key factor in patient success is the stage at which they receive medical intervention. While intervention at Stage IA for endometrial care results in a success rate of 90%, these rates drastically drop to 40–50% when patients reach stages IIIC and IV. 
And while time and time again, we see the relationship between patient economic status and survival rates, the National Academy for Medicine (NAM) found that even when insurance, income, age, and severity of illness are accounted for, racial and ethnic minorities overall receive a lower quality of health care than white people. While Latinos and African Americans make up about 30% of the population, these minorities make up only 6% of those participating in federally funded clinical trials of new drugs and treatments. 
This disproportionate representation of people of color in clinical trials exemplifies a larger theme of black patients having to tackle a multitude of barriers to receive the early detection and treatment needed to survive. While white people are easily included in these frontier studies, the exclusion of minorities has led not only to disproportionate access to care but also to potentially skewed or even harmful results to a study due to a lack of racial diversity in the research.
In addition to barriers for black women in accessing treatment, existing standards for diagnosing conditions may rely too heavily on symptom reporting without acknowledging the cultural factors that could inhibit full disclosure. While 92% of diagnoses of endometrial cancer involve the presence of postmenopausal bleeding, national guidelines of diagnosis require both a patient to report this symptom and a clinician to recognize and act accordingly.
However, these guidelines fail to recognize that black women are far less likely to report the appearance of symptoms. This is due to an amalgamation of factors such as the lack of publicly available information on endometrial cancer symptoms, a higher tolerance for symptoms before seeking health care, a deep distrust of the healthcare system due to past experiences, and even the normalization of bleeding in the female black community due to a higher count of fibroids (benign tumors in the uterus that result in heavy periods) in black women. Yet, regardless of the reason, these guidelines for early intervention have the potential to inhibit black women from being recognized for needing treatment.
"So I think right now our guidelines have very good intentions," Doll said. "But they don't really account for the differential experiences of black women in the United States, and specifically they depend on women themselves to know about endometrial cancer, to have alarm at what can be seen as pretty mild symptoms, and to be reporting to a health care system that has trust in them."
But these assumptions cannot be made, and black women's negative experiences with the medical system cannot be dismissed. In one study, when physicians were given the Implicit Association Test, physicians were far more likely to associate white faces with pleasant words than black faces. Investigators using data from the Surveillance, Epidemiology, and End Results programs found that hysterectomy operations — a guaranteed tool for prevention of endometrial cancer — were far less likely to occur in black patients than in white patients simply due to a lack of recommendations by physicians.
"Part of the problem is that doctors think [it is possible to] choose between being objective and not," Doll said. "We need to move away from that language and … move towards recognizing, 'I am coming in with certain perspectives and biases, so I am going to remain curious about the person in front of me so that I don't assume things.'"
In a perfect world, maybe the objectivity of science could prevail over the undeniable humanity in doctors. But the world can be a dangerous place, and the most dangerous thing these institutions could do is ignore the strides that must be made to allow the healthcare industry to do its job and address an issue that is causing black women to unjustly die.
"As providers, we all want to do our best and help patients," Dr. Emily Fay, a maternal fetal medicine physician at the UW, said. "That is why everyone goes into medicine … to help people. So I think everyone is starting from a really good place … but a lot of these biases are unconscious. So we need to try to bring these to light and make people aware."
ECANA is in the spotlight for these efforts. On its website, ECANA directly empowers prospective members by providing previous participants' digital testimonies, definitions for "cancer lingo," event calendars, and downloadable documents detailing suggested treatments as well as informed questions that help create a more collaborative treatment plan. By simply clicking a button, you are invited into a community that emboldens its members through knowledge, storytelling, and activism.
"I want black women who may face the threat of endometrial cancer or who have faced the threat of endometrial care to survive and thrive," Doll said. "I want them to have the same opportunity as any other woman in this country to beat that kind of diagnosis and come out the other side of it and live their full lives." 
Learn more about ECANA on its website: ecanawomen.org.
Reach contributing writer Jaiden Feldman at wellness@dailyuw.com. Twitter: @sincerelyjaiden
Like what you're reading? Support high-quality student journalism by donating here.