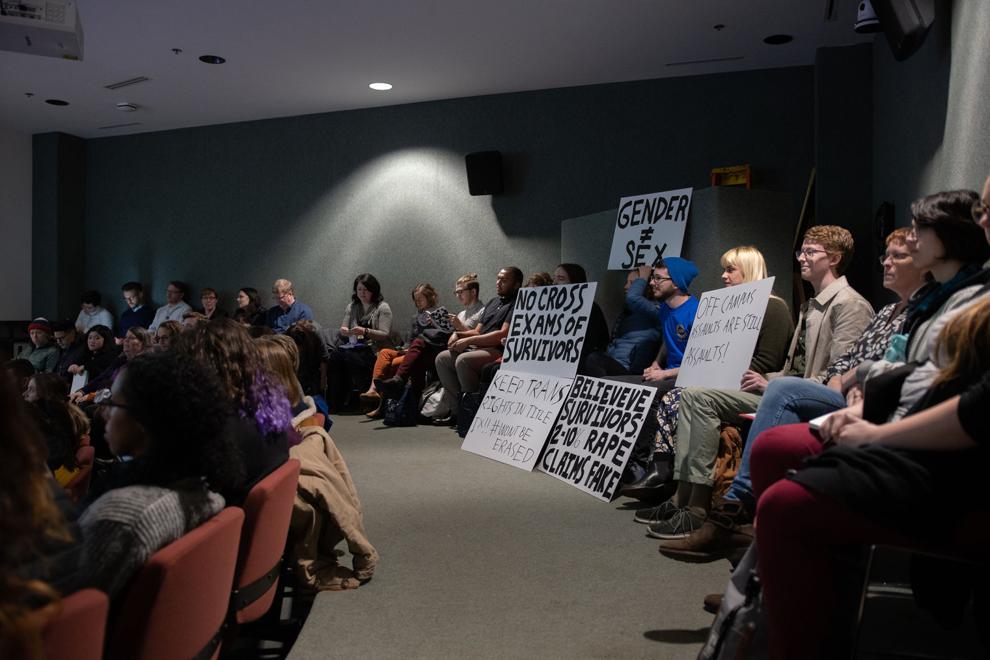 The Office of Secretary of Education Betsy DeVos released a set of proposed new Title IX regulations in a 144-page document Nov. 16, 2018. On Monday, concerned UW students and community members packed the Allen Auditorium — many people standing at the door or sitting on the floor between rows of filled chairs — to hear the university's response to these regulations and offer input. This forum was one of four chances that the UW (including the Tacoma and Bothell campuses) is offering for community members to voice their concerns.
Given the volatility of the topic of Title IX — a regulation specifically focused on gender discrimination that has been used to enforce anti–sexual harassment and assault policies — tensions were running high in the auditorium.
Valery Richardson, the university's Title IX coordinator, had her work cut out for her in facilitating this forum. Within the space of an hour, she had to summarize the proposed new regulations, the UW's current regulations, and how things might change here at the university, as well as provide time for public comment.
A few of the biggest regulatory changes which have the university worried, according to Richardson, are an updated definition of what constitutes sexual harassment, a new procedure for initiating a complaint against a complainant's wishes, and an emphasis on informal resolution.
The proposed new Title IX definition for sexual harassment reads: "Unwelcome conduct on the basis of sex that is so severe, pervasive, and objectively offensive that it effectively denies a person equal access to the recipient's education program or activity."
The university's current definition is worded similarly but, crucially, refers to conduct that is "unwelcome and sufficiently severe, persistent, or pervasive." The change in conjunction (from "or" to "and") makes a big difference for what kind of behavior can be sanctioned.
"[The proposed definition is] creating a much narrower band of behavior that would fit the federal definition of sexual harassment," Richardson said. "What they're saying is that they're giving a very narrow band of behavior that the Office of Civil Rights will enforce … That means the university will be accountable for less."
Of course, the UW is not limited to the federal definition. We can, according to Richardson, "have a more expansive definition that covers a broader range of behavior."
However, there is a concern that having two definitions of sexual harassment — the federal and the university's — will lead to an overly complicated response process. The university would need to have two different standard response procedures to correspond to the two different definitions, which would further burden its Title IX enforcement staff and could potentially lessen the rates of survivors coming forward.
Another aspect of the proposed regulations that the university finds worrying is its mandate for filing complaints against a complainant's wishes in certain scenarios.
"According to the current proposed regulations, the University of Washington would be obligated to take action against a survivor's wishes if the Title IX coordinator learns of two complaints (that meet the narrow definition of sexual harassment) against the same person," Richardson said. "We would be required to open a complaint if that happens … and I would be required to name the complainants. We're very concerned about this and this sort of absolutely flies in the face of what we feel is appropriate in terms of response."
Current university policy is to honor a complainant's wishes if they do not wish to come forward.
"To date, the University of Washington has not opened a complaint against a complainant's wishes," Richardson said.
If an investigation is launched without a survivor's consent, it has a low chance of coming to conclusive findings — given that neither party involved in the complaint will likely participate in a hearing — making it a lengthy, frustrating process from an administrative standpoint. More importantly, though, the fear that an investigation might be launched regardless of their wishes might reduce the chances of survivors coming forward.
The university is also concerned about the tone of the proposed regulations in regard to the process of informal resolution. According to Richardson, many people felt that the proposed regulations heavily stressed the option of informal resolution, or settlement, which may place pressure on survivors of sexual harassment or assault to back down.
The proposed regulations "would require UW to give additional notice to students of their options for informal resolutions and their rights in the event of settlement," Richardson said.
This is a slight change from current policy, which does not emphasize the possibility of informal resolution.
"What we do now is we normally don't bring up informal resolutions at the University of Washington," Richardson said. "The philosophy there is that we don't want to be leading someone in one path. If they come forward and they say they want an investigation, they want to proceed in this way … that's taken at face value."
Once the proposed regulations went live, the Department of Education launched a sixty-day public comment period. The University of Washington is hosting these public Title IX forums to solicit feedback about what it should include in its comments.
Richardson said that the University of Washington, as an institution, plans to submit "substantive comments … footnoted, annotated, and with examples" by the deadline of Jan. 29. Private individuals are also welcome to submit comments (though one person in attendance at this forum cautioned that duplicate comments will be thrown out).
Monday's forum drew an unanticipated crowd size, most likely due to the sense of urgency brought on by the release of the proposed regulations and the impending deadline. A group of protesters sat at the back, silently holding paperboard signs with messages like "GENDER ≠ SEX," "NO CROSS EXAMS OF SURVIVORS," "OFF CAMPUS ASSAULTS ARE STILL ASSAULTS!," and "KEEP TRANS RIGHTS IN TITLE IX."
One of the protestors was second-year graduate student Adam Kapilow.
"It's a historic moment in our nation," Kapilow said. "Do we fall further back on issues of sexual harassment or do we take this as an opportunity to move forward? That's why it's important to me [to be here]."
Several members of the audience spoke out with concerns that an updated federal definition of gender could be used to legislate transgender people out of Title IX's sphere of protection. Some commented that the university should still choose to sanction issues of sexual violence that occur off-campus, to which Richardson agreed. Richardson remained in the auditorium long after the forum officially ended, to speak with attendees (including Kapilow) and collect further input.
"The odds of changing this regulation at the federal level to me seem minimal," Kapilow said. "But the odds of [us] impacting and making a strong decision on the university level, potentially at the state level, are much higher."
UW community members can submit comments regarding Title IX to the University of Washington here. Any individual can submit comments regarding Title IX to the federal Department of Education here (click the "Comment Now!" button).
Reach writer Mac Murray at wellness@dailyuw.com. Twitter: @merqto
Like what you're reading? Support high-quality student journalism by donating here.