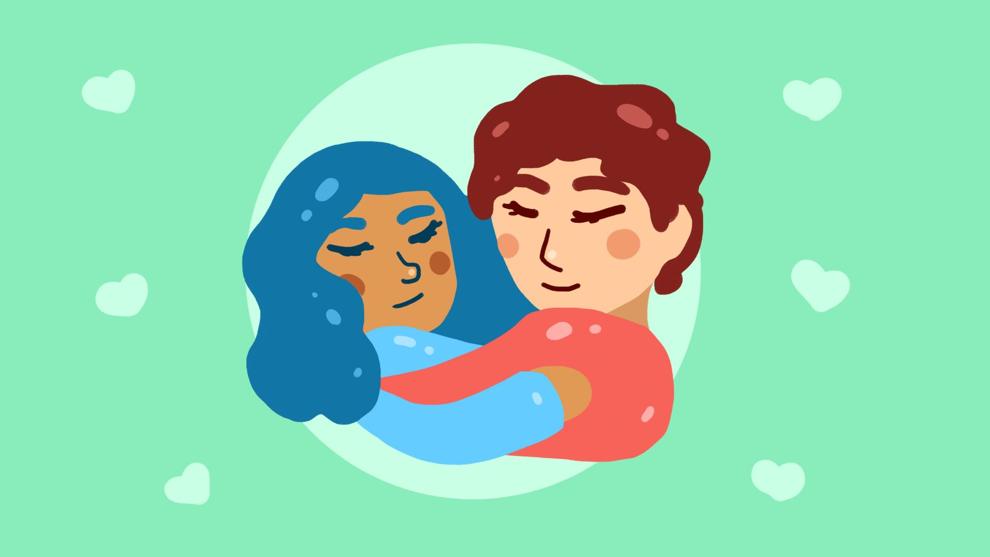 There is an assumption that hookup culture dominates and runs rampant through the college population. While, yes, there is greater access to other people your age who are probably willing to sleep with you, it doesn't mean that the only thing to do in college is bone. 
In fact, the amount of individuals who actually do hook up regularly is largely overestimated, and studies point out that the total number of average sex partners has fluctuated little over the past few decades. College kids are still college kids, after all.
Sex is not the sole way to be intimate with others. Emma Turner, a fourth-year in the community, environment, and planning major, chose to explore more expansive potential definitions of intimacy through her capstone project, "The Warmth Collection," which gathers responses from participants through anonymous submissions. 
"Through this project, I've noticed that there is a predominant narrative of college intimacy equaling sex and hookup culture," Turner said. "Pop culture and the academic literature reflect that heavily, so the purpose of my project is to see if that is accurate and if it's telling the whole story."
There is an invisible yet persistent pressure for college students to be sexually intimate, and for some this may manifest in harmful ways. Lack of education on what it means to be in a healthy relationship and have safe sex (mentally, not just physically) is partially to blame. Most mainstream conversations about hookup culture, sex, and intimacy tend to be heteronormative and focus on those who are white and upper-class.
"Is focusing on the sexual lives of college students the best way to understand their intimate relationships?" Turner said. "My hypothesis is no, because there's so much more."
Hookup culture promotes a sort of intimacy-on-demand, where you can be incredibly selective with how much of yourself you share with others and choose to cease interaction at a moment's notice. 
Young people are sometimes fearful of expressing emotion due to the fear of "catching feelings" or being called a "simp." Texting etiquette of younger generations encourages acting emotionless; you are expected to wait to respond to messages from a potential partner so as not to seem overly eager or too "easy."
Some adults don't believe that college kids are able to be multifaceted when it comes to  fostering emotional connections, even claiming that we've witnessed the death of dating as newer generations choose hooking up in lieu of dates. While sex and hooking up may be sought after for some college students, not every 20-something only cares about their sexual conquests. Being intimate with someone can be more than just engaging in the act of sex, though that can be involved in the experience as well. 
Turner was initially interested in exploring the topic of intimacy because she hopes to be able to pursue a career in therapy in the future, and her biggest challenge came when she realized that up-to-date literature about intimacy in college is quite difficult to find. The responses to her project have covered a wide range of topics, such as family, societal pressure, and self-intimacy. These responses confirm Turner's theory that intimacy, to many, is not just about sex. 
"You can have sex and it doesn't have to be intimate, but you can also have sex and it can be intimate; they're not mutually exclusive," Turner said. "You can experience intimacy without sex and intimacy with sex. They can overlap or they don't have to."
Turner understands that there are limitations to whom she can reach through this project. Because much of the project is based on gathered responses, people who aren't willing to type out personal stories online, those who don't have time to participate, individuals who are uncomfortable participating because their identity has been previously problematized in academic research, and more might not be able to contribute to her research. 
There's nothing bad about wanting to have a bunch of sex and just generally seeking to have a good time, but it's also not the only way to experience intimacy. I've learned that, for myself, I feel most intimate with someone when I can talk to them for hours without overthinking about potentially sounding stupid, or in the little moments of comforting silence. 
Turner began her research this year and hopes to potentially continue if she decides to attend graduate school, since there is still a lack of information regarding intimacy for the college-aged population. 
The full archive of responses are available to read on the project website.
Reach writer Michelle Austreich at wellness@dailyuw.com. Twitter: @djmeezus
Like what you're reading? Support high-quality student journalism by donating here.