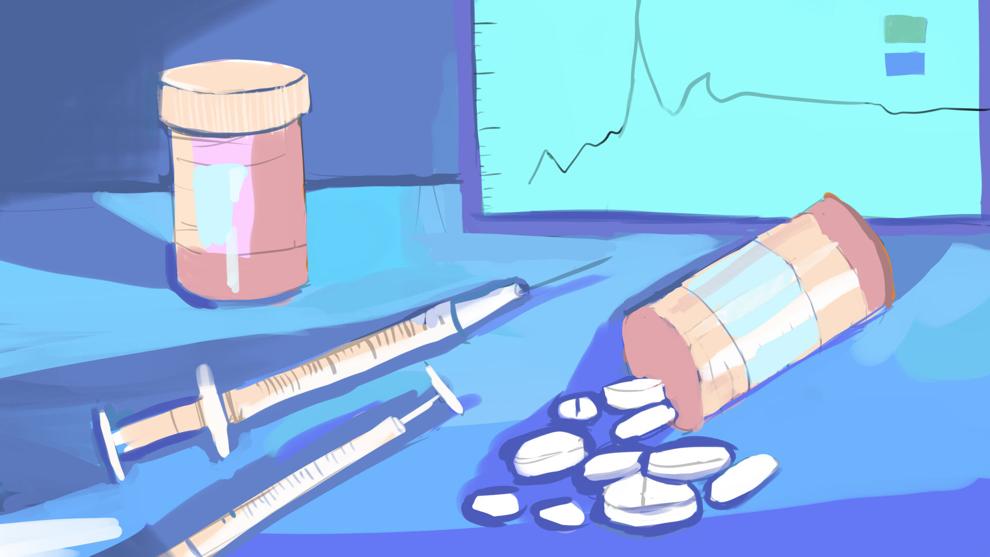 Preliminary drug trends for Washington state don't paint a pretty picture for substance abuse during the COVID-19 pandemic. In fact, there was a spike in opioid deaths at the onset of the pandemic, and the trend continues to rise as more reports come in to the UW Addictions, Drug & Alcohol Institute (ADAI).
Before the pandemic, statewide drug poisonings, or overdoses, averaged 300 per quarter, but during the second quarter of 2020 —  April, May, and June — that number shot up to about 461, with data still slowly trickling in after the extensive process of determining that a death was opioid-induced.
"If somebody dies March 31, their death might not be certified until April or May or June or July," Jason R. Williams, a research scientist at the UW Addictions, Drug & Alcohol Institute, said. "And then as far as the data is concerned, there's a process of turning that death certificate ... turning that into data, coding it to [International Classification of Diseases], that takes some time as well. So there's a lag."
This explains the drop-off to about 360 statewide drug poisonings in the third quarter of 2020. According to Williams, the data is still incomplete, due to the lag in following all the proper protocols and then uploading the data into the system. The further in the past the data is, the more accurate it is. Williams expects the third quarter to be similar to the numbers of the first and second quarters after most of the data is input. 
One of the most drastic spikes in opioid-related deaths is through overdoses from fentanyl. Williams stated that people have found ways to illicitly make fentanyl at very low costs and very high dosages. This makes the drug particularly easy to overdose on, especially if it's being sold as oxycodone pills — a common disguise for fentanyl. 
According to Williams, it's difficult to say conclusively that the pandemic is causing the spike in opioid-related deaths, as there could be other factors contributing to the spike. He says that the data following the end of the pandemic will tell us more about if the spike was caused by the pandemic and forced isolation. 
"If we see a notable shift downward in drug deaths in general, fentanyl deaths in particular, then you might say that it was driven by the isolation and so on — the stress of [COVID-19]," Williams said. "Now, it's likely that that's the case, but just because these two phenomena are happening at the same time doesn't mean one causes the other."
According to Mandy Owens, a research scientist at ADAI, one of the biggest risk factors for overdosing is using drugs alone. Because of the COVID-19 pandemic, self-quarantining and social isolation were highly encouraged and even enforced to slow the spread of the virus, presenting unique dangers for people who use drugs. 
"We have seen this uptick in substance use in general, and that's for a variety of reasons," Owens said. "Part of it is boredom, but also part of it is stress and mood. You know, I think everybody is under increased amounts of stress and depression — anxiety has certainly increased along with that — and for some, they have turned to alcohol and drugs to help with that."
The pandemic has exacerbated gaps in research because people can't meet or provide as many services in person, which can limit data-gathering to people who have reliable internet and access to electronics. This isn't possible for everyone who uses drugs. 
According to Owens, drug poisonings and overdose statistics only reflect deaths caused by overdose, but not all overdoses lead to death. The data doesn't include people who overdose on drugs and survive, so it presents an incomplete picture. 
Washington state lawmakers have passed the Pathway to Recoveries Act through the House Public Safety Committee, a bill that will decriminalize drug possession for personal use. The bill still has to be approved through a few steps within the legislative process before being implemented and enforced, but strides are being made to help people experiencing drug or alcohol addictions. 
Williams thinks this law will be beneficial in making drug treatments more accessible because it will lessen the fear of prosecution. 
"What you're trying to do is kind of lower the stigma on problematic drug use, so that people will be less stigmatized and more able to feel more inclined to seek out help," Williams said. 
Reach Health & Wellness Editor Iseabel Nance at wellness@dailyuw.com. Twitter: @iseabel
Like what you're reading? Support high-quality student journalism by donating here.