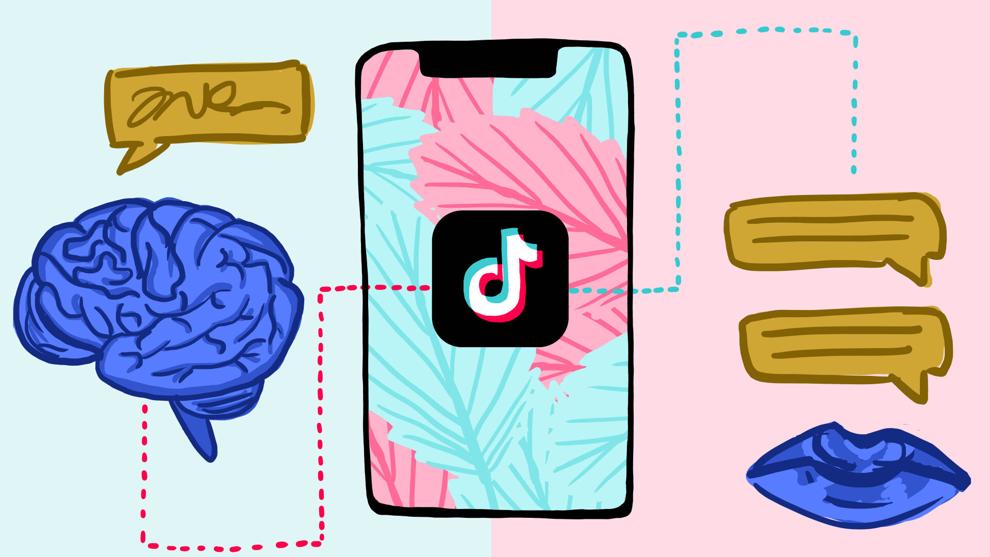 "You've made it to the place where there isn't any drama; all I'm here to do is help you through your trauma," registered social worker and psychotherapist Nadia Addesi raps along to an instrumental beat for her 3.1 million TikTok followers. 
This specific video has racked up 30.1 million views and 6.1 million likes. Her account @evolveandbloom continues to grow from her content on various mental health-related topics, from trauma and unhealthy relationships to anxiety and procrastination.
Addesi isn't the only one joining the video-based social media platform. Psychologist Dr. Julie Smith (@drjuliesmith), with 2.7 million followers; licensed social worker Dr. Courtney Tracy (@the.truth.doctor), with 1.5 million followers; and counselor TJ Hoegh (@tik_tok_counseling), with 1.3 million followers, are just some of the mental health professionals filling the app with massive amounts of content. 
A quick search for "#mentalhealth" reveals a slew of videos that altogether account for 6.8 billion views, while "#therapy" videos have over 2 billion views. 
This growing trend of "TikTok Therapists" reflects the intersection of an increasing need for mental health care among Generation Z adolescents and young adults — who account for 60% of TikTok users — and a cultural movement toward innovative health care technologies. 
"Growing up, I feel a lot of people don't discuss mental health, and [it] leads them to feeling isolated," UW student Anna Steed said. "Our generation is using this as a way to normalize the mental health issues that we are dealing with."
Seven in ten teens see anxiety and depression as a "major problem" among their peers, according to a 2018 Pew Research Center poll. And in 2016, 12.8% of 12 to 17-year-olds had experienced a major depressive episode that year, but fewer than half of those reported receiving treatment, according to the National Survey on Drug Use and Health. The American Psychology Association found that Gen Z is the most likely of all generations to report poor mental health. 
And while Gen Z might not always have the best medically recommended coping mechanisms, the TikTok therapy movement may signal a change in the right direction for addressing issues.
However, many TikTok therapists are raising concerns about the oversimplification of complex mental health problems when they are conveyed in minute-long videos, as well as potential legal issues surrounding offering medical advice online.
Some students are also sounding the alarm. Abby Rogers is concerned that condensing nuanced topics into TikTok's 60-second time limit inevitably leads to a generalization that may cause more harm than good.
"A lot of people will see these videos and become convinced they have a disorder they have none of the official symptoms for," Rogers said. "Mental health is extremely complicated, and there is no responsible way to make a video that is only 60 seconds that can encompass all of your viewers."
Licensed professional counselor Lisa Henderson told The New York Times that she worries short TikTok therapy videos are "misleading" by presenting treatments as easy fixes rather than "a long slog of hard work."
Hoegh even goes so far as to put "TikTok ≠ Counseling/Therapy" in his @tik_tok_counseling profile bio. Users who click the link in his bio find a slide deck where he provides further clarification surrounding his TikTok practices, including a statement that he does not offer specific advice for any person due to ethical and legal concerns.
Despite the thin line between broadly educating TikTok users and providing specific medical advice, TikTok therapy content boasts benefits.
Like mental health apps, therapists and mental health content on TikTok create the potential to reach people who would otherwise not receive help or information. And introducing these topics and concepts through a casual app like TikTok can give someone the needed push to seek actual, personalized therapy and treatment.
Meanwhile, these accounts and professionals provide a welcoming community for millions of followers to educate themselves about mental health topics and validate their emotions and experiences.
Users flood the comment section of these TikTok therapists' videos. One user on Tracy's post writes, "This made me cry. [I] guess [I] needed to hear this, thank you." 
Another user wrote on Addesi's post, "[T]his made me feel safe — thank you!"
Steed, the UW student, echoed these remarks.
"People can share their experiences, and people can connect with others," Steed said. "It can help people feel less alone."
Reach writer Hannah Sheil at wellness@dailyuw.com. Twitter: @thehannahsheil
Like what you're reading? Support high-quality student journalism by donating here.