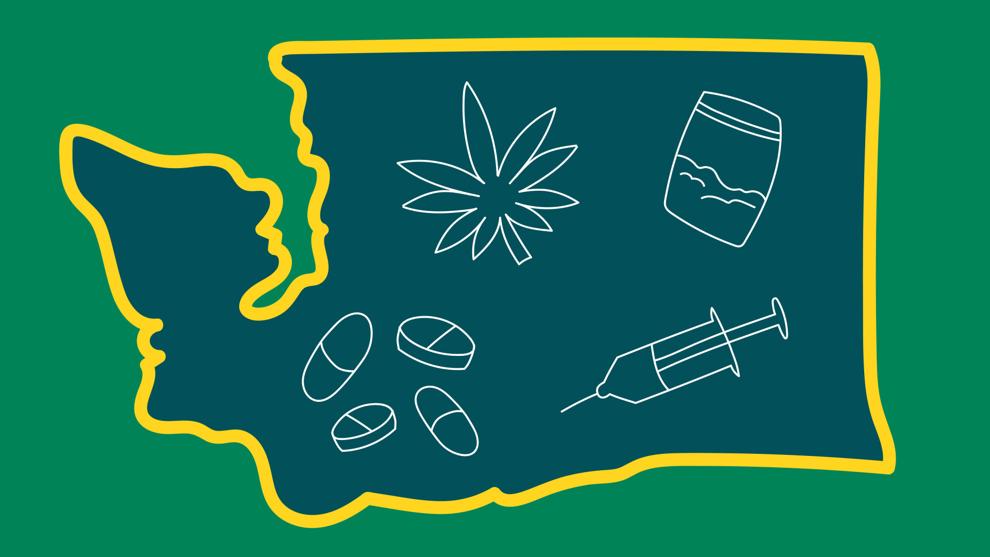 In 1971, former President Richard Nixon imposed the war on drugs stating that drug possession was "public enemy number one." Since then, drug use and abuse have been treated as criminal issues, handled through incarceration and punitive measures. That's where a lot of public knowledge of drug laws ends.  
"I feel like we definitely haven't learned enough about the war on drugs because I feel like my main exposure to information about drugs and drug use was just like 'Drugs are bad, and people who are involved with drugs are also bad,'" sophomore Mitchell Wolfe said. "That general message [was] being given by the public school system, mainly."
However, recent legislation in Oregon has suggested that drug possession and addiction issues should be treated as public health problems instead of criminal ones, with more focus towards treatment, rehabilitation, and education. 
On Nov. 3, 2020, legislation focused on decriminalizing "hard drugs" — i.e., drugs other than marijuana, alcohol, or nicotine — passed in Oregon.
Katherine Beckett, chair of the law, societies, and justice department and S. Frank Miyomoto professor of sociology, did an interview for NPR where she discussed Oregon voters' decision to decriminalize drugs and the possibility for Washington to do the same. 
"I think that it's really exciting that Oregon voters have expressed this recognition that the war on drugs is a failed policy and it absolutely is a failed policy in so many ways," Beckett said. "The [United States] has attempted to price people out of the drug market by making drugs harder to find and expensive when they do find them. We've spent more and more to try to achieve those goals and drugs have become more available and cheaper," she said. 
In Washington, marijuana has been legal since 2012, but possession of hard drugs such as LSD, methamphetamine, and heroin has remained a criminal offense. However, Washington is following Oregon's lead and presenting a legislative bill entitled the Treatment and Recovery Act to decriminalize hard drugs in 2021. 
Christina Blocker, press secretary for Treatment First Washington, the campaign organizing the legislative bill, explained the goals of the Treatment and Recovery Act.   
"We'd be first reclassifying personal use drug offenses from crimes to civil infractions and then connecting folks with the right services to address the root causes of their substance use disorder, really to just help them get back on track," Blocker said.
A huge part of Washington's proposed bill is to direct funds towards treatment. More than $100 million in taxes from legal marijuana sales will be implemented towards strengthening existing treatment programs and developing new ones, according to KIRO 7. 
Ron Jackson, clinical professor of social work at UW, became more aware of the immense need for drug addiction treatment during his time as executive director of Evergreen Treatment Services, a Seattle-based substance abuse rehabilitation facility, before he began at UW. 
"Their approach in the Oregon initiative and the Washington model is... not a free pass for people that are struggling with substance use disorders," Jackson said. "[It's to] get referrals for treatment and housing and other kinds of things to help them stabilize their lives." 
Julian Sauncier, a member of the steering committee at Treatment First, spoke from firsthand experience about what the consequences of a felony charge from drug possession can be. 
"Once you get labeled a felon, the barriers to success are insurmountable, in some ways," Sauncier said. "Sometimes it's much easier just to fall back into old habits." 
And he's right. The consequences of a felony charge amount to more than just jail time. According to Sauncier, they include being barred from housing and employment opportunities, as well as social ostracization, which he calls "othering." The reality is that our society is not friendly to those with drug problems, and sometimes it's easier (and cheaper) to dismiss them as "beyond help" instead of providing them with treatment and opportunities for recovery. 
Les Liggins, member of the steering committee at Treatment First and former captain of the narcotics sector at the Seattle Police Department, told a story that exemplified this point phenomenally. 
Liggins spoke about a man he met while working on the police force. The man was living on the streets of Seattle, was struggling with a drug problem, and confided in Liggins about his wishes to recover and get a respectable job. Some time later, Liggins found that the man had committed suicide.
"Society and the community only offered him an option to go to jail. They didn't offer him treatment," Liggins said. "We couldn't hear his cries for help. And so situations like this don't need to be repeating themselves. What we want is healthy communities and healthy people, and arresting them when [drug abuse] truly is… a public health issue, it's just not right."
Reach writer Katie Newman at wellness@dailyuw.com. Twitter: @katieinewman
Like what you're reading? Support high-quality student journalism by donating here