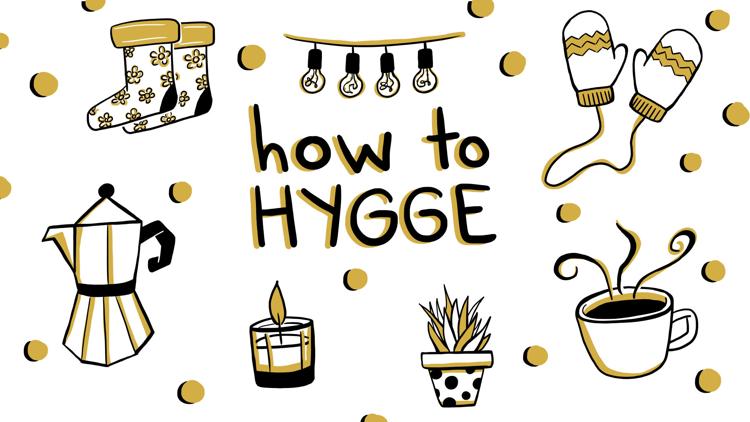 As much as I love rainy Seattle winters, I'll be the first to admit that the short days and lack of sunlight do a number on my mental health. Perhaps it's the winter blues or the heavy hand of seasonal affective disorder (SAD), but winter can be a hard time to be happy. This phenomenon is not exclusive to Seattle, of course, and our friends across the pond in Denmark face winters just as long and gloomy, if not worse. 
Despite its infamously dreary winters, Denmark has consistently found itself in the top rankings on the list of the world's happiest countries. How does Denmark remain so happy, even with such long, dismal winters? It could be its fantastic welfare systems, or it could have something to do with the Danes' fanatic love for hygge (HYOO-guh). In the United States, the concept of hygge would be likened to coziness or hominess, but translating something so rich and full of Danish culture into an English word feels insufficient. 
Hygge is the art of creating a cozy life, whether it be with something as small as lighting candles or something as big as changing the way you interact with your social circle. Hygge is built on the five senses: taste, sound, smell, sight, and touch. Think cozy sweaters, warm drinks, chocolate cake, and a crackling fire, and you're basically there. 
Beyond being a guide to a relaxing existence, the principles of hygge can have a positive effect on your mental health, making it a perfect strategy to combat the lows of winter. In fact, Meik Wiking, a Danish happiness researcher and author of "The Little Book of Hygge," refers to hygge as a survival strategy for Danes in wintertime in his book. 
A crucial piece of a hyggelig (hygge-like) experience is being present. Spending time with friends without screens present, or swapping your nightly Twitter scroll for a book, are excellent examples of this. Less screen time, especially at night, can also benefit your sleeping habits, which play a role in why people experience SAD. Hygge is about feeling gratitude for the moment you're in, and this type of mindfulness can be wonderful for mental health. 
Beyond caring for your mental health, hygge habits can bring connection and depth to your relationships. Putting a focus on making memories and fostering a life that intertwines with your loved ones is something special, and something hygge revolves around. 
However, considering the times we're in, spending quality time with friends might not be possible. Later in this column, I'll share ways to have hyggelig evenings via Zoom, and enjoy hygge with your friends while being safe. 
Practicing hygge can mean bringing new elements into your space, but it doesn't have to break the bank. In fact, it shouldn't; you can't buy hygge. You can go out to a store and buy the nicest candles and the most expensive lamps and sweaters, but the atmosphere of hygge comes with togetherness, with authenticity, with relaxation and humility. 
Hygge is not a consumerist trope like so many American corporations would love it to be. Sifting through a thrift store to find the perfect oversized sweater and supporting a local candlemaker is much more hyggelig than hitting a Target and walking out with mass-manufactured home decor that feels more cookie-cutter than unique to you. 
You don't need fancy and expensive decor or excursions to experience hygge. Hygge moments are heavily grounded in a feeling of casualness. Come relaxed, come cozy, come as you are.
As winter quarter begins, I'm delving into hygge to create habits that keep me happy and fulfilled, and I'm bringing you along for the ride. From candles and room lighting to sweaters and cake, this column will be your guide to hygge and hopefully will keep you cozy and happy this winter quarter. 
Reach columnist Katelyn Grganto at wellness@dailyuw.com. Twitter: @KGrganto
Like what you're reading? Support high-quality student journalism by donating here.