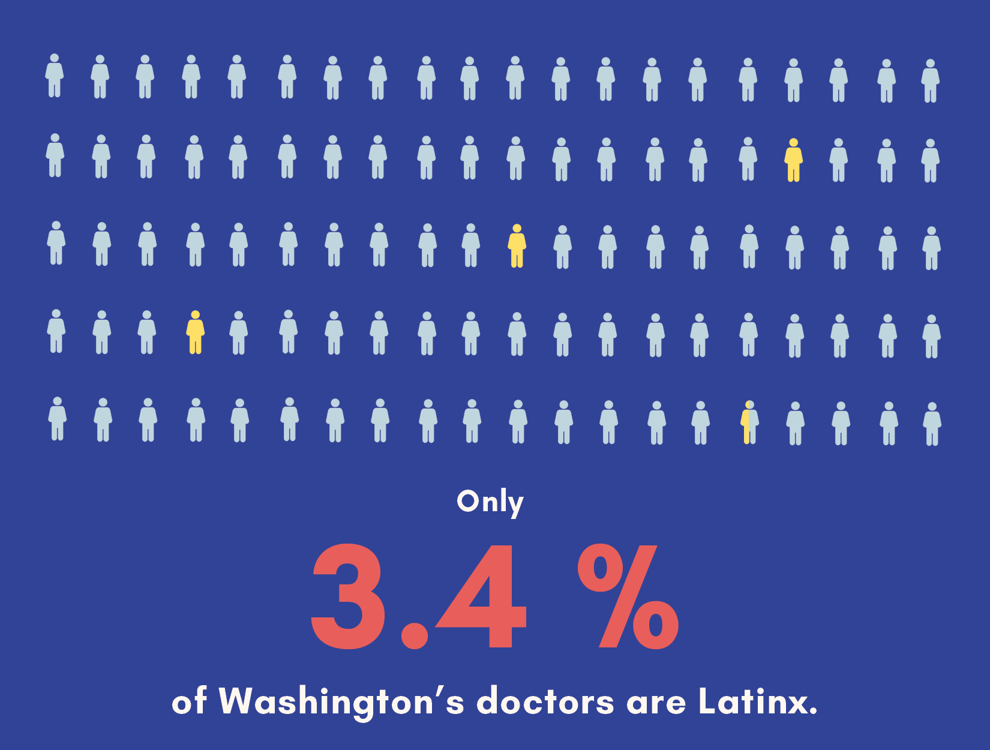 Washington's Latino population, the fastest-growing minority population in Washington, faces severe underrepresentation in the medical field, resulting in disproportionately negative health outcomes for Latinos. The COVID-19 outbreak has revealed these stark disparities, with at least 34% of total cases in the state being among Latinos as of Jan. 17.
The Latino population in Washington has grown to just over 13%, but Latinos make up only 3.4% of the state's doctors. These findings were presented in a study conducted by the Latino Center for Health at the University of Washington in October 2020, alongside a comprehensive action plan that could increase the amount of Latino physicians in the workforce.
The study shows that while most of Washington's Latino population resides in central and eastern counties, such as Yakima, Adams, and Franklin, the largest concentration of Latino physicians are located in the greater Seattle area and Spokane. 
The Federal Health Resources and Services Administration recommends a ratio of at least one physician per 3,500 residents in designated health professional shortage areas (HPSA). The study finds that 12 of the state's counties have no Latino physicians, and nine additional counties which have fewer than the HPSA threshold.
For many Latinos, this means they must make the decision to travel far distances to seek care from non-Latino physicians, or forgo care altogether. For an individual without the means to travel, there may not even be a choice. 
Research concludes that language concordance between physicians and patients facilitates proper medical care, fewer reporting errors, and increased understanding and adherence to the treatment plan from the patient. Access to Spanish-speaking doctors is imperative for many Latino and Hispanic individuals.
Dr. Leo Morales, the co-director of UW's Latino Center for Health and corresponding author of the study, became aware of the lack of Latino healthcare workers during his time at the University of Washington's medical school.
"I had basically no instructors who were of Latino or Latinx origin," Morales said. "So it was very clear that there just aren't many people like myself who were in the roles of either medical providers or faculty members."
During his residency at the University of California San Francisco and the University of California Los Angeles, he saw greater diversity in their workforce and realized how important representation is in the medical field. He then returned to Washington to work on raising awareness of the disparity as it relates to Latino communities.
After the necessity of the research was brought up by a community advocate at a Latino health forum, Morales and the other co-director of the Latino Center for Health, Gino Aisenberg, decided to work together with the community to seek funding from legislators for the research.
"This is not just a research project that is intended to be published, and that's the end of it," Morales said. 
The research provides major recommendations to address the disparity moving forward, some of which are moving into legislation during the current legislative cycle. 
The study emphasizes the need for a multifaceted approach that combines short- and long-term solutions, one of which is to strengthen pre-medical education in Latino communities. 
The Office of Financial Management projects that Washington's Latino population will grow to 17% by 2040. This will further lower the physician-to-patient ratio that is already lacking throughout the state. However, much of the state's Latino population is made up of younger children and teenagers. The plan emphasizes that increased investment in public school STEM education is essential in advancing long-term Latino healthcare.
In the short term, the study recommends that the state increase admissions of Latino applicants into medical school and expand scholarship funding and loan repayment programs for current students and graduates, in exchange for post-residency service in underserved communities.
While much of the emphasis is on education, the study also calls for the creation of a Latino physician organization for Washington, an organization that would operate similarly to California's Latino Medical Association, and increased diversity in graduate medical education programs.
"The Latino Center addressing these gaps is in part due to the fact of who we are," Morales said. "We're bringing up these issues and providing leadership in this area because these are the communities that we are from and that we are concerned with. So that's diversity at work."
Reach writer Phoebe Harris at wellness@dailyuw.com. Twitter: @phoebemh
Like what you're reading? Support high-quality student journalism by donating here.