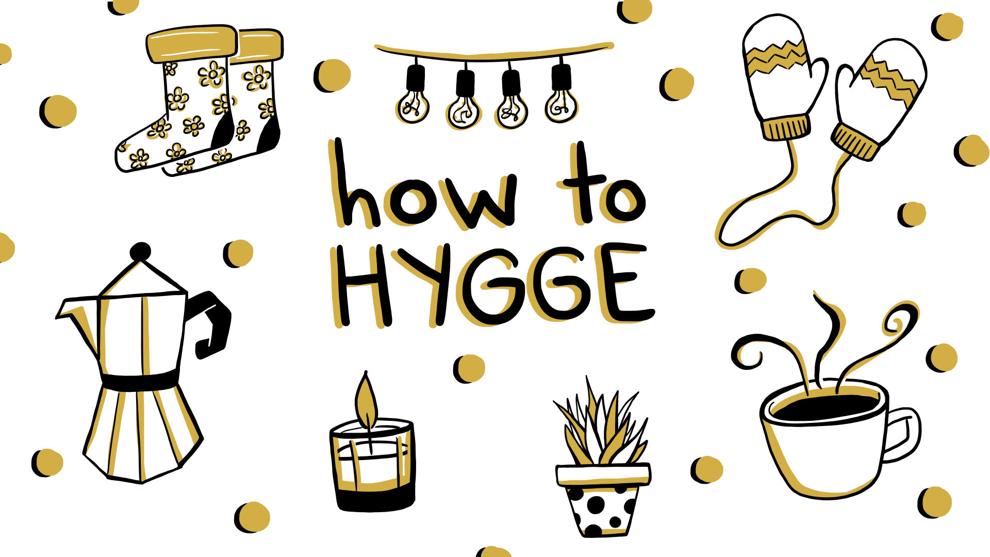 When I wake up to rain at my window, often the first thing I want to do is embrace the atmosphere and sit in the window with a warm cup of coffee. Maybe I'll spice it up with some home-baked cookies and curl up with a book and my little feast of sweets. This is a sentiment I share with the Danish, as it's an incredibly cozy activity, marked with a very crucial element of hygge: food and drink. 
As a reminder, hygge can be smelled, seen, touched, heard, and, yes, tasted. There's a reason "Danish" is the name of a pastry — the Danish know how to do comfort food, and they revel in its hygge qualities. Comfort food is linked to hygge not simply because cooking can be relaxing, but because treating yourself is a fundamental piece of hyggelig living.
"Hygge is about being kind to yourself —  giving yourself a treat and giving yourself, and others, a break from the demands of healthy living," happiness and hygge expert Meik Wiking said in "The Little Book of Hygge."
In the spirit of giving themselves a treat, the Danes are massive fans of all things delicious. 
Because sweets, cakes, and baked goods are widely associated with hygge, the consumption of them in Denmark reaches absurd levels. This just goes to show why the average consumption of confectionery, 18 pounds per head, in Denmark is double the European average. Scientifically speaking, that's about the weight of three and a half chihuahuas.
Danes love sweets, specifically cake, so much that there are traditions surrounding the consumption of it. Sønderjysk kaffebord is a several-course meal served with coffee; the courses, naturally, are all cake. This tradition comes from the Jutland Peninsula during post-war German occupation, where restrictions prevented the Danes from gathering to drink and be merry. Instead, they compromised with coffee and cake, with guests competing to bring the tastiest cake.
Sønderjysk kaffebord establishes cake as a social food, making it special to the Danes and to hygge. While devouring a whole cake yourself is definitely respectable, most often you'd share one with others. It's a delicious way to spend time with the ones you love, and there's nothing more hyggelig than that. 
Outside of munching on all things sugar, that nice warm mug of coffee I mentioned earlier is another hygge must-have. In fact, while candles are an iconic hygge symbol, when Wiking's team surveyed what most reminds people of hygge, a nice hot drink actually polled above candles.
While a cozy drink of your choosing works just fine, coffee is overwhelmingly the Danish favorite. The compounded word kaffehygge, which is literally coffee plus hygge, is commonplace in Denmark. While studying in a coffee shop with friends and enjoying some nice kaffehygge is out of the question given our current circumstances, coffee at home can be even more hygge with the right mindset. 
A key part of enjoying hyggelig food is the time it takes and intentionally preparing food. Brewing and pouring your own cup of coffee, frothing your own milk, and choosing your favorite mug is a cozy experience all its own, and this idea of "slow food" can apply to your whole diet. 
This slow food magic comes with how long it takes to prepare a food. A loaf of bread you toiled over and topped with a sprig of homegrown rosemary is significantly cozier than one you'd buy at the store. Taking the time to enjoy the process of cooking is an excellent way to form a great relationship with food, but also to add hygge to your daily activities. Stopping by your local farmers market is another fun way to add time to your prep and to gather organic ingredients that just add that extra homemade flare to your creations. 
Incorporating time to make and enjoy food into your busy life as a student is a great way to allow yourself a break from the hustle and bustle, as well as from the iconic fast food and frozen pizza diet many of us subsist on. You could even start a virtual cooking club with some pals, sharing recipes and having hyggelig evenings over Zoom. 
As for me, I'll be baking Snobrød and brewing coffee as an excuse to not do my computer science homework. Oops, I mean for research purposes. 
Reach columnist Katelyn Grganto at wellness@dailyuw.com. Twitter: @KGrganto
Like what you're reading? Support high-quality student journalism by donating here.