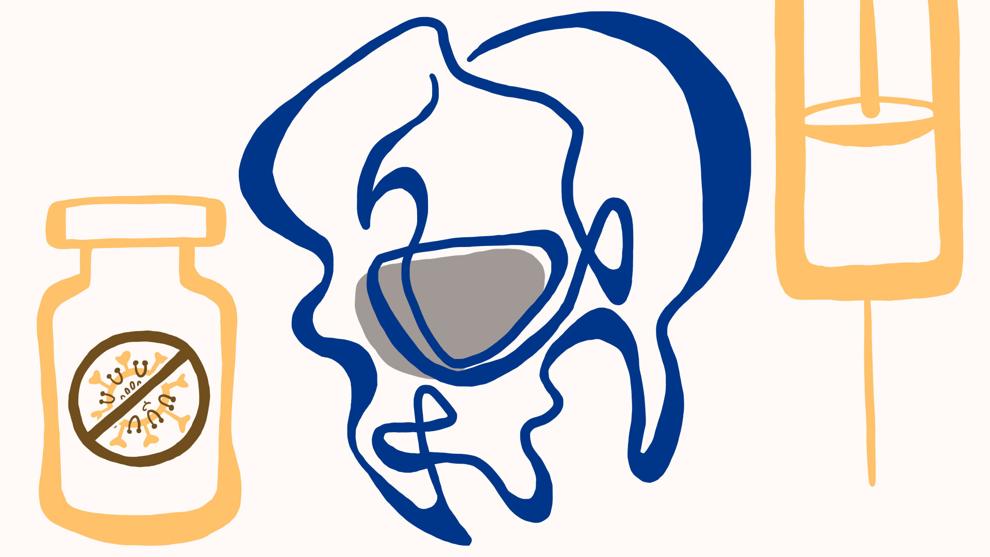 As winter quarter begins, droves of UW students are making their way back into dorms. A time which would normally see students gathering closely in reunion will instead be marked by heightened health precautions and worries as the community braces for a spike in coronavirus cases brought on from winter travels. 
Though many may be entering 2021 feeling optimistic about the status of the virus due to news of vaccine distribution, coronavirus case numbers in the United States continue to reach new heights. It is crucial that we realize the pandemic is far from over, and that we continue to strictly abide by the current guidelines in the interest of public health.
Though the vaccine will undoubtedly be a powerful tool in our pandemic-fighting arsenal, we need to realize that our guard cannot be lowered yet — not even as our peers begin to receive their doses. Distribution of the vaccine is by no means a sign for you to stop wearing your mask or stop social distancing from others.
The leading coronavirus vaccines, like all other immunizations, are not 100% effective. According to the Centers for Disease Control and Prevention, the Moderna and Pfizer-BioNTech vaccines have efficacy rates of 94.1% and 95% respectively, meaning that, while the vaccines massively cut down on the spread of the virus, some who are immunized can still get infected and continue to transmit it to others. Additionally, CNN reports that two doses of either vaccine must be administered three to four weeks apart, and that people are not properly protected against the virus until this process has been completed.
The vaccine is quite protective, but it does not entirely shield everyone from the virus. After receiving both doses, people should continue wearing masks and social distancing; the vaccine is not a free pass to stop following precautions.
Dr. Paul Pottinger, professor of infectious diseases at the UW School of Medicine, said that once a sufficient number of people are immunized, community transmission will be greatly reduced — but for this to happen, the rate of vaccine distribution needs to be dramatically increased.
"The vaccines look very safe, very effective," Pottinger said. "We're just not nearly there yet in terms of coverage. And until we get virtually everybody immunized, we just have to keep doing the same thing that we already know that works."
Some have expressed concern over the ability of the vaccine to combat variants of the coronavirus, like the one that recently emerged in the United Kingdom before spreading abroad. 
Pottinger said that, since the coronavirus is composed of RNA, which is more unstable than DNA, the emergence of mutations does not come as a shock. Luckily, the vaccine is expected to be effective in combating these mutations of the virus.
The UW saw hundreds of cases of the virus on campus in 2020, as shown on the UW case tracking dashboard. With a major influx of students returning from break, transmissions are sure to rage into 2021. Though younger people are typically not considered "high-risk," otherwise healthy students may spread the virus to immunocompromised students or to older members of the community, to whom it could prove more fatal. Additionally, though the rate of serious illness or death in young adults is low, it is a non-zero number.
"We still have young people who come to our hospital sick and do not survive," Pottinger said.
Though we are beginning to see the limited distribution of the vaccine, the United States is in the most dangerous period of the pandemic yet, with The New York Times reporting around 200,000 infections each day and daily death tolls in the thousands. 
"If you don't have access to reliable, frequent testing, you have to assume that you're contagious, you've got to tighten down your bubble, you've got to distance aggressively for at least 14 days after you come back," Pottinger said. "There's just no other way to do it. Absent that, the hospitals will be swamped."
The university also urges students to get tested for the virus no more than 72 hours before returning to campus or shortly after returning to campus, and to continue observing the three W's: wear a mask, wash your hands, watch your distance.
"Our hospitals are jammed, and our capacity to keep taking the best care of people — the only way we can do that is if we have a lower burden of these infections," Pottinger said. 
Now, more than ever, your failure to properly follow precautions could bring great harm to members of our community. Though the widely loathed year of 2020 is now over, the pandemic is not. 
More information on the vaccine is available on the UW Medicine site.
Reach contributing writer Max Keystone at wellness@dailyuw.com. Twitter: @KeystoneMax
Like what you're reading? Support high-quality student journalism by donating here.