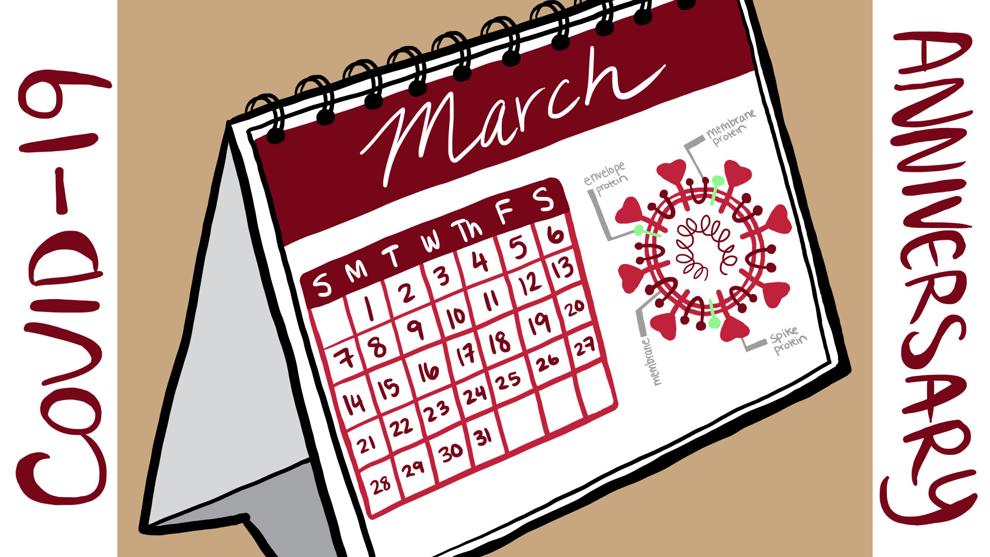 Loss and trauma are natural parts of the human experience, so is grief. In the stretch between the end of 2019 and the beginning of 2021, so much has been lost: social connections, jobs, feelings of excitement and independence, and most obviously, hundreds of thousands of lives. Grief is an abundant feeling these days. 
Anniversaries are notorious for triggering traumatic memories and difficult emotions. An article from Mayo Clinic details troubles brought on by the anniversary of the loss of a loved one. The same feelings can be brought on by a loss of normalcy and upheaval in life as we knew it. 
The COVID-19 lockdown began, for most, in the middle two weeks of March 2020, and it was a collective trauma, defined by Gilad Hirschberger in a National Institutes of Health review as "the psychological reactions to a traumatic event that affect an entire society." The world was faced with an unprecedented and unpredictable future of isolation, and such a jarring and involuntary change is enough to trigger a serious trauma response.
The last couple of months of the winter quarter were not easy for those of us reflecting on the year since the beginning of the pandemic. 
Malia Clark, a recent UW graduate, hoped for a quick return to her life on campus when quarantine first started. 
"A year ago … I thought I would be back on campus after [spring] break or after a quarter," Clark said. 
But, as we are now all too aware, that was not the case.
I think that most young people felt that way. At the beginning of my time at college, I felt that I could take on most obstacles thrown my way. Of course, I thought, this would blow over. We would be back on campus in the spring, having all survived a bizarre but small blip in our experience of collegiate life. 
Throughout the first two quarters of my freshman year, I proved to myself time and time again that I could handle the abundant challenges many freshmen face, and when lockdown began, I felt that I had hit a wall. If I could not be with new friends on a new campus and continue to adapt to my novel adult life, I felt that I could not make any progress. Life was entirely paused.
And here we are an entire year later. There are no more firsts — nobody who hasn't had a birthday during lockdown or celebrated a cherished holiday within the confines of quarantine. 
Clark has felt a bit numbed by the anniversary of the beginning of the pandemic. 
"I guess my feelings have been kind of muted throughout the year," Clark said. "I wouldn't say I felt devastated; the anniversary was more bittersweet and sad." 
Peter Jabin is a pastoral psychotherapist — a title that signifies his training in both spirituality studies and psychotherapy — who owns a private practice at Jabin Counseling in Eastlake. He says that Clark's feelings, as well as most others, are normal and should be embraced as a part of the grieving process. 
"[Grief] has always been an essential part of being human; it is inevitable," Jabin said. "It is how the soul is deepened and sculpted." 
Refusing to grieve, according to Jabin, can result in serious long-term consequences. 
"If we avoid it, there's all kinds of ways that can go wrong, from addiction to mental illness," Jabin said. "We arrest the healing process when that happens." 
It can also cause bitterness and general discontentment in old age, he explained. 
But the idea of embracing a gnawing, visceral, and despairing feeling is hard to wrap one's head around. With grief, it seems, there is no way around it but through it. Processing grief means expressing it, writes Stephanie O'Neill for NPR. While the experience of grief is different for everyone, acceptancehas to occur in order for the grieving process to progress.
Sitting with the discomfort that grief brings is the beginning of the seemingly insurmountable task of asking, "What's next?" Avoiding grieving does not delay it, but rather creates a toxic environment of ignorance and devalidation of one's most primal human emotions. 
This first step in the grieving process, followed by grief expression and, with any luck, self-exploration, was where we found ourselves about a year ago. Nobody, not even government officials or renowned scientists, could answer "What's next?" 
So we did the best we could and learned more about ourselves in this newfound solitude. 
"[Lockdown was] a huge opportunity to get our attention, to slow us down, to actually let us reflect on how we're living as a culture," Jabin said. 
Throughout quarantine, Clark found solace through new ways of social (distanced) interaction.  
"I've actually found it really helpful just seeing how different people are struggling and ... getting involved in class Discords has been helpful," she said. 
Clark also found support in Reddit and through online gaming.  
A newfound trouble, as vaccines are distributed and restaurants slowly open, is what Jabin describes as the "rush back to normalcy." The opportunity to return to life as we knew it a year ago is being dangled in front of us — a cruel trick being played when we are so hungry for a taste of freedom. But Jabin advises that we not force ourselves back into social living, as it would be "a tragic lost opportunity" for reflection and personal growth in a quiet, if isolated, time in our lives.  
Jabin advised that anyone struggling with the idea of returning to normalcy should find someone to support them through this transition. 
"Speak to somebody who's got room to hold what you're bringing, who can respect what you're experiencing," Jabin said. "Don't try to do this alone."
Reach writer Katie Newman at wellness@dailyuw.com. Twitter: @katieinewman
Like what you're reading? Support high quality student journalism by donating here.