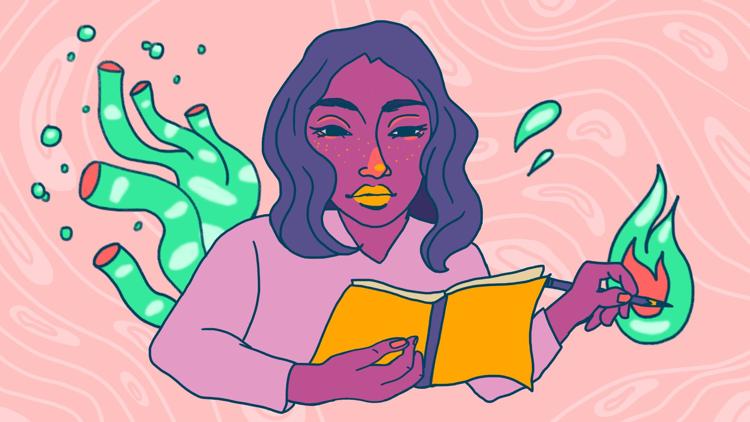 Some days, I'm honestly not sure what day it is, despite school being in session again. Each day feels like the same monotonous cycle of going on Zoom, going off Zoom, trying to work on homework, and attempting to not be distracted by all the social media feeds and videos I need to keep my mind ultra-busy from the stress of isolation. 
From the conversations I've had with friends, fellow classmates, and Twitter mutuals, I've gathered that this is a common theme in life today. When you don't see many people other than those you live and/or work with, mental health can take a hit, especially when you have just your own thoughts to relentlessly keep you company — and this can make things feel even more stressful.
Over the course of the last 10 months, I've found myself turning toward journaling more. Ever since I was in elementary school, I kept thoughts in a notebook, but I usually wrote in it once a month at the most. However, during the pandemic, I've found myself pretty consistently writing my thoughts down, at least twice a week.
Journaling is a common practice that's helpful for mental health, but it feels uniquely important during winter quarter — the gloomiest, most energy-lacking quarter — while being riddled with an ongoing pandemic.
Writing in a journal has helped me sift through my thoughts in a time when I don't get a ton of those physical interactions with other people. Journaling has helped me feel like I am speaking my mind to "someone" despite spending most hours of the day cooped up in my room.
UW sophomores Aliyah Wachob and Ana Tanaka can attest to this, as students who have been journaling for years now. During the past months, both have found themselves gravitating toward journaling to work through some of their thoughts and emotions.
"I was having to be alone with my thoughts and sit there," Wachob said. "There's only so much Netflix, movies, podcasts, and social media to distract yourself with, and your thoughts are still there. I feel like journaling helps you feel not so alone with your thoughts."
Journaling can be a way to not only move your thoughts around and/or out of your head, but also to reflect on them.
"When there's that lack of human interaction — you know, usually there's your go-to friends or your go-to people that you talk to when something happens, or just general conversation, and we didn't have that — [journaling is] kind of like just getting rid of your thoughts," Tanaka said. "When things are just spinning in your head, it's easier to just write them down … it kind of helps to at least feel like your thoughts aren't fully in your head."
It also almost feels like you're actually talking to another person, in a sense — think of the mainstream idea of "dear diary." Wachob described it as "talking to someone when I'm journaling … it helps feel like I'm not by myself."
Writing in a journal is inherently a time for reflection, and with this pandemic, we have more time to process everything going on (including the fact that time itself now feels different, and often strange). Journaling can help you visualize that better.
"I feel like I get a lot of perspective about myself and my emotions," Wachob said. "I learn things about myself. If I write something, and I come back to it a few months later, and if I'm feeling a similar way about another situation, I can go back and be like 'oh, you feel this way when you're in these situations' ... and it sort of helps me analyze myself." 
Journaling can be a time for introspection and attempting to grasp what's going on in the world and in your life. In a time when nothing might feel in your control, it can help to at least feel like your thoughts aren't in total disarray.
"It has made me more of a reflective person, being able to kind of think back on things in retrospect, instead of reacting in the moment," Tanaka said. "With journaling, you're able to look back on things with that comfort of retrospect and being like 'oh, maybe I could have acted differently.'"
Writing down your thoughts can help in day-to-day life, and it can especially be helpful in such an isolated time like the COVID-19 pandemic. If you've never journalled before, why not give it a shot this quarter? You could relieve some of that stress and maybe also learn something new about yourself in the process.
Reach writer Deborah Kwon at wellness@dailyuw.com. Twitter: @scoobydeeby
Like what you're reading? Support high-quality student journalism by donating here.