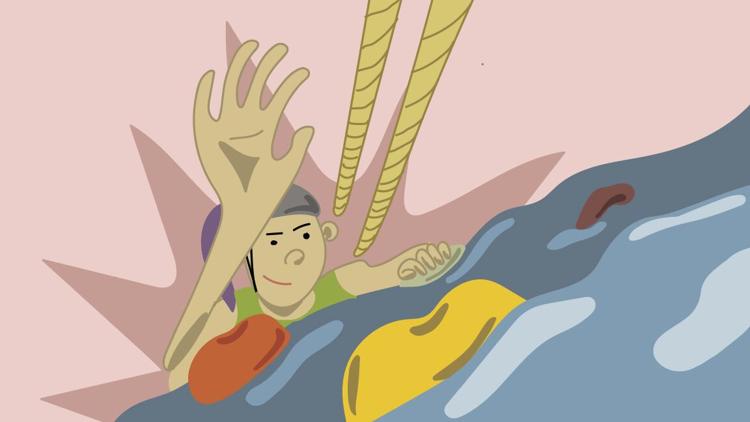 I was an athlete as a child. My mom is an avid runner, and my family is full of soccer enthusiasts. I played softball and soccer until my senior year of high school, when college applications, the student newspaper, and my restaurant job took over. After that, the decision to exercise was a conscious effort, and it overwhelmed me. I had grown to loathe running — it seemed pointless and it easily frustrated me. So I stopped. For the first time ever, I led an inactive life. 
I landed at the UW in fall 2019 with two random roommates: Liv and Hallie, two wonderful girls from Bothell who are now very dear to my heart. They were both athletes, and when we sat in our cramped triple dorm in Elm Hall each night and chatted about our days, I noticed that they ran or went to the climbing gym every day. Every day! It baffled me. Each raved about how even if they were having a bad or boring day, going for a run or a climb made them feel like they had accomplished something. 
Now that was something I could get behind. In the fall of freshman year, I realized I had way too much free time on my hands. I had never had so much freedom, and I didn't know what to do with it. I climbed into my lofted twin XL bed each night feeling unfulfilled. I figured it couldn't hurt to try something that might make me feel like I'd done something worth doing every day. 
Liv never challenged me to anything, never bragging about her athletic accomplishments (of which there are many), yet I felt in constant competition with her. I think I envied the peace and fulfillment she found in exercise, something I hadn't experienced in a long while.
So when Liv suggested that we go climbing, I took her up on it. I'd never been, and I welcomed the distraction, so we headed down to the IMA and laced up our climbing shoes at Crags Climbing Center. 
I can't say that I immediately fell in love with the sport. I felt ridiculous doing it the first few times. I would get halfway up a V0, the easiest climb, find myself awkwardly perched between two holds, and drop to the mat with a clumsy "thunk." 
After I climbed a few times, I had a revolutionary realization: I didn't hate it. It was different from any exercise I'd tried before, full of static motion and mental puzzles. I finished each session drenched in sweat, but it was a sweat that I had worked for, a sweat during which I had actually done things. It felt so much better than just running aimlessly. Simply getting to the top of the rock wall doesn't sound all that amazing, and it wasn't really. It was just something different, and something that has truly changed the way I feel about my body and my physical fitness. 
I made friends through climbing. I met the people I currently live with at the gym, and together the four of us have found fun, distraction, and satisfaction through climbing. We have grown closer through conversations about the sport: techniques, suggestions, triumphs, and failures. Together we celebrate exercise and the feelings of connectedness it brings us. 
And when we started, they were all much better climbers than me. Something I've learned in the past few years is that exercising with people who are better at exercising than I am, however mortifying it might be, is really the best way for me to improve. 
Milo Forbes, captain of the UW Collegiate Climbing Team, has been climbing for four years and agreed with me on this point. 
"Surrounding myself constantly by people who are much better than me pushed me to try really hard," Forbes said. "It also helped because climbers in general, if you find the correct group, are super supportive."
The Seattle Bouldering Project in the Central District was my go-to spot this fall, but the gym closed due to a resurgence in COVID-19 cases. So again, I was left without an exercise plan. One of my housemates began to replace climbing with jogging. She was better than me, and when we went running together I felt way out of my league, but I realized that the desire to not embarrass myself motivated me to push myself, something I'd never tried while running. 
Once my housemate and I started jogging together, I realized that for some reason, I didn't hate it anymore. I honestly don't know what prompted that change. I think that about a year after my conversation with my freshman roommates, I started to realize that they were right. Exercise did more for me mentally than it ever did for me physically. 
"I think a lot of people have something in their life … that safe space, you can go to and you're by yourself, you can clear your head, take time for yourself, work through your thoughts," Forbes said. "I can go to the climbing gym and focus on something else that doesn't stress me, focus on something that works my brain that I enjoy and that there's zero stress attached to."
After a good climbing session or off an endorphin-high from a run, my brain is clearer, my day is more productive, and my mood is noticeably better. I can't say why exactly this happens, and sometimes it doesn't. Sometimes I exercise just to say that I did something for myself that day. But most of the time, I look in the mirror after a workout and I'm happy with the physical progress I see, but more importantly, I'm happy with the personal growth I have done.
The past year has not been easy. I know that's not a groundbreaking statement — I'm pretty sure everyone else on earth can say the same. I've felt isolated, lazy, and unmotivated, and for a while I didn't see a way out of it. I realize now that for me, exercise has been a constant source of stability and affirmation in this world of perpetual change. 
Reach contributing writer Katie Newman at wellness@dailyuw.com. Twitter: @katieinewman
Like what you're reading? Support high-quality student journalism by donating here.