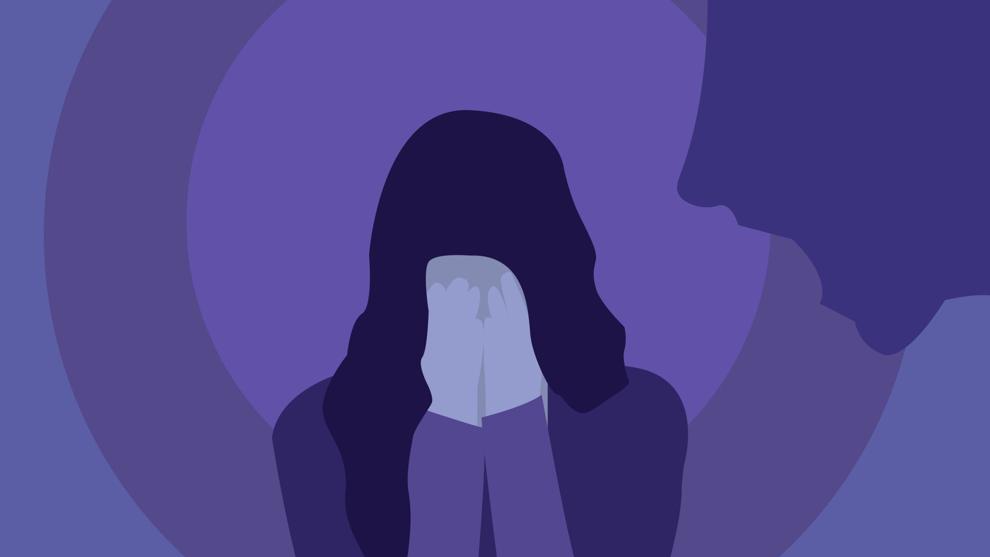 I still think about my ex sometimes. Not because I desperately want him back, but because even a year after our last breakup, I'm still in the process of reclaiming myself from the trauma he inflicted on me: rebuilding the relationships he isolated me from; taking back the right to privacy as my own; and accepting that my feelings and my voice are valid and deserve to be heard. 
He was my high school best friend before we dated. We met through mutual friends and got along right off the bat. We were complete opposites, but that enabled us to be open and honest with each other about our different worlds, more than other friends we had in our collective social group. That bond was incredibly special to both of us, especially in high school, a time where everyone is just trying to find their place. 
But it's also the reason I kept holding on — why it was so hard for me to accept that my best friend of three years, who I thought knew me better than anyone, was emotionally abusing me. 
Emotional and mental abuse are difficult to recognize when you are in the midst of it, especially when it is coming from someone you love, and who you think loves you back.
But abusers only have their best interests in mind. Domestic abuse is defined by the National Domestic Violence Hotline as "a pattern of behaviors used by one partner to maintain power and control over another partner in an intimate relationship." Without the use of physical harm, emotional abuse is a way to maintain dominance in a relationship by psychologically diminishing a partner's inner self. 
UW Livewell representative Brittany Bowhall says that while some signs of emotional abuse are more obvious — such as rage, possessiveness, manipulation, or being unfaithful — some are not as easy to identify. Tactics of isolation from friends and family, guilting, deflecting responsibility, or belittling occur as a different pattern or cycle of behavior for everyone. 
"These reasons tend to be more difficult to recognize because they are a bit more nuanced and happen on a continuum that is different for each person experiencing them," Bowhall said in an email. 
My ex and I were on and off for about two years. Those years were a constant cycle of breaking up and getting back together, often having my voice buried in the decision. I didn't have very many friends during this period, losing touch with more and more as he guilted me if I spent too much time away from him, especially if I was with other people. As more time went on, the less open I became about what was going on in my relationship with my friends and family. 
I became heavily reliant on him, emotionally and socially. He always found ways to explain away my feelings or concerns, to the point where I felt like I couldn't trust what I was feeling and thinking anymore. I thought he knew me better than I knew myself, so I valued his opinion more than my own.
According to public health researcher Vera Mouradian, tactics of social isolation impair the support group and can make someone entirely dependent on their abuser for social interaction or emotional needs. Invalidating feelings and gaslighting are also tactics that an abuser can use to maintain power, as they make their partner question their own sanity and can turn them against their own emotions. 
The longer we were together, the more extreme his behaviors became.
He felt it became crucial to our relationship to go through my journals, phone, and laptop without my consent. There was a growing list of men and friends I was forbidden to see and places I wasn't allowed to go. He threatened to leave me completely if I didn't quit my job or if I chose to attend the UW, one of two schools I had applied to at the time. 
By then I had no income, no choice of schools to attend, no friends to reach out to, no right to my own privacy. I spent most of my time walking in circles in his apartment — cooking, cleaning, smoking weed, waiting for him to come home from work — as the one-bedroom slowly started to feel more like a cage.
But it wasn't always bad — even when intense fights became daily, we'd still share laughs or smoke weed like we did in high school. We always circled back to the fact that this was the closest relationship either of us had ever had, and why would we not fight for that — or worse, let it go to someone else? 
According to Bowhall, abusers engage in a cycle of abuse and forgiveness to keep someone trapped in a relationship with them. Those periods of normalcy in between incidents are what made me stay, thinking that things were improving and that the friendship we had before was still there.
Throughout all of this, we had a lot of mutual friends who had no idea what was going on; they only saw us at our happiest moments. My friends whom I saw occasionally were concerned about my partner's behaviors that I would write off as "nothing too serious." 
Isolation from friends and family, or hiding toxic behavior from loved ones, according to Mouradian, plays in the abuser's favor, as it makes them less likely to face any sort of repercussions for their behavior. 
Things continued in this way until my best friend, who was also a close friend of his, became one of the only people in the world to witness his actions toward me. She felt he was too toxic to have in either of our lives, and she was the first person to use the word "abuse" to describe the situation. That was the first time I had recognized it as such. 
"Honestly, I realized it doesn't matter how long we've known him, we don't have to put up with this s---," she said to me. 
Bowhall said that this type of confiding in a person you trust is crucial when seeking support through emotionally abusive relationships.
"If you find yourself in a toxic relationship, find support from someone you trust that you can share details about what is happening without judgement from them," Bowhall said. "Whether it is a trusted friend, family member, a counselor, a confidential advocate, etc. … Having someone to get nonjudgmental feedback from helps dismantle the secrecy abusers value in abusive relationships."
My friend was the one to start unraveling his control over me. I told her the things that happened in the past two years that I was too ashamed to share with anyone else. From then on, as my feelings and experiences were finally validated, I began to dismantle the uneven power dynamic. 
Although it is a continuing journey of reclaiming myself as my own person, I am now in my second year at the UW, writing for The Daily, and surrounded by supportive people who respect my boundaries. When I look back, I often wonder what it was like for him to lose power over me — to no longer be able to control who I see, where I go, or how I think. He never loved me as much as he didn't want anyone else to have me. I wonder if he ever knew the difference. 
Spotting abusive relationships and finding a support system for them are especially important in the age of COVID-19. Bowhall said that since March and the start of quarantine, domestic violence has been on the rise, as individuals have fewer opportunities to leave spaces shared with an abuser. This increases the risk of abuse and makes it harder to reach out for support. 
If you feel unsafe in your relationship, campus resources such as UW Livewell are available and can be contacted discreetly. 
Community resources for domestic violence:
King County Coalition Against Domestic Violence: 206-568-5454
NW Network of Bi, Trans, Lesbian, Gay Survivors of Abuse: 206-568-7777
Asian and Pacific Islander Women and Safety Center: 206-467-9976
Abused Deaf Women's Advocacy Services: 206-726-0093
Sexual Assault and Relationship Violence Information Services: 206-685-HELP (4375)
Refugee Women's Alliance: 206-721-3846
UW Counseling Center: 206-543-1240
Reach writer Maya Tizon at wellness@dailyuw.com. Twitter: @mayacruz_
Like what you're reading? Support high-quality student journalism by donating here.