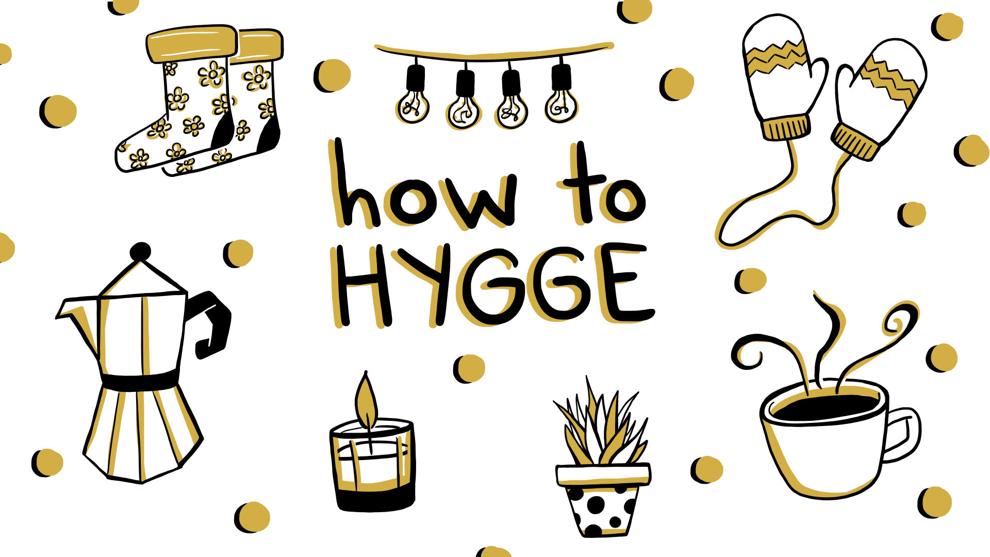 Incorporating hygge into your lifestyle can be as easy as lighting your favorite candle or having your friends over for a game night. It's something that can be enjoyed alone, but is wonderful to share with loved ones. 
The social aspect of hygge is foundational to its culture in Denmark. It's so important to the Danes that work ends sharply at 5 p.m. to allow time to balance work and social life. 
Interaction with loved ones through hugs or simple touches releases a hormone called oxytocin, or the "love hormone." Considering the happiness that comes from human connection, in addition to this hormone that lowers stress and boosts well-being, it makes sense that a social life plays a major role in hygge. 
Hygge socializing looks a little bit different than college socializing. For instance, the size of the gathering tends to be much smaller. Hygge is likened to socializing for introverts. It's more focused on calm nights inside with a warm drink and your closest friends which, during a pandemic, is much safer and more responsible than a night out on the town with a bunch of acquaintances. Bringing friends around to bake bread, hosting a clothing swap, or just chatting over a mug of coffee are relaxed and limited-capacity ways to spend a hyggelig evening with your inner circle. 
Make no mistake, this isn't because all Danes are introverts. Part of enjoying hygge with others comes from a shared history among friends. Having stories and moments in common to laugh about is a special part of hygge that friends can bring. Meik Wiking, author of "The Little Book of Hygge," suggests creating traditions with friends in order to build that shared history. Planning weekly game nights, monthly hikes, or whatever else you fancy can create moments that your group can enjoy together for years to come. 
Nonetheless, not all of us are living with roommates or family, or are able to safely be close to others. Never fear, my quarantined friends! If you're down on your oxytocin, hygge practices can provide the feeling of warmth that releases the love hormone. 
"In many ways, it is like a good hug, but without the physical contact," Wiking wrote in "The Little Book of Hygge." 
The feeling of a good hug without the COVID-19 risk sounds like a great deal. Stay safe and swap the social activities to cuddle up with a book, learn a new recipe, or take up a cozy hobby. Knitting, painting, and other calming crafts are great hygge hobbies and can also be a fun way to create more hyggelig decor or clothing to add to your home. 
Thanks to our good friend Zoom, you can also maintain social distancing while enjoying hygge with friends and family. Light some candles, put on some cozy socks, and log into a call for a virtual cooking night, or a long-distance book club. The options for hyggelig activities are endless. 
While options are wide open for ways to practice hygge, it's easy to let this consume you and to neglect it all together. For moments when a hyggelig night is much needed but you lack the energy to put one together, Wiking recommends a hygge emergency kit. Throw together some wool socks, a good book, some special treat, or whatever else lights your hygge fire, and store it away for a rainy day. 
Finally, incorporating hygge into your life once a week with friends, or every once in a while for some self-care, is a perfect beginning to your journey, but working to establish a hygge routine or some daily cozy habits serves to root hygge deep in your lifestyle. 
Routinely lighting your candles after class or enjoying your favorite tea before bed every night are small changes that can add a touch of extra joy to your day. After all, those simple, cozy moments are what hygge is all about. 
As winter drags to a close, I hope hygge has found its way into your home, your kitchen, and into your heart. May you all be so consciously cozy that not even the Seattle gray can dampen your mood. 
Reach columnist Katelyn Grganto at wellness@dailyuw.com. Twitter: @KGrganto
Like what you're reading? Support high-quality student journalism by donating here.