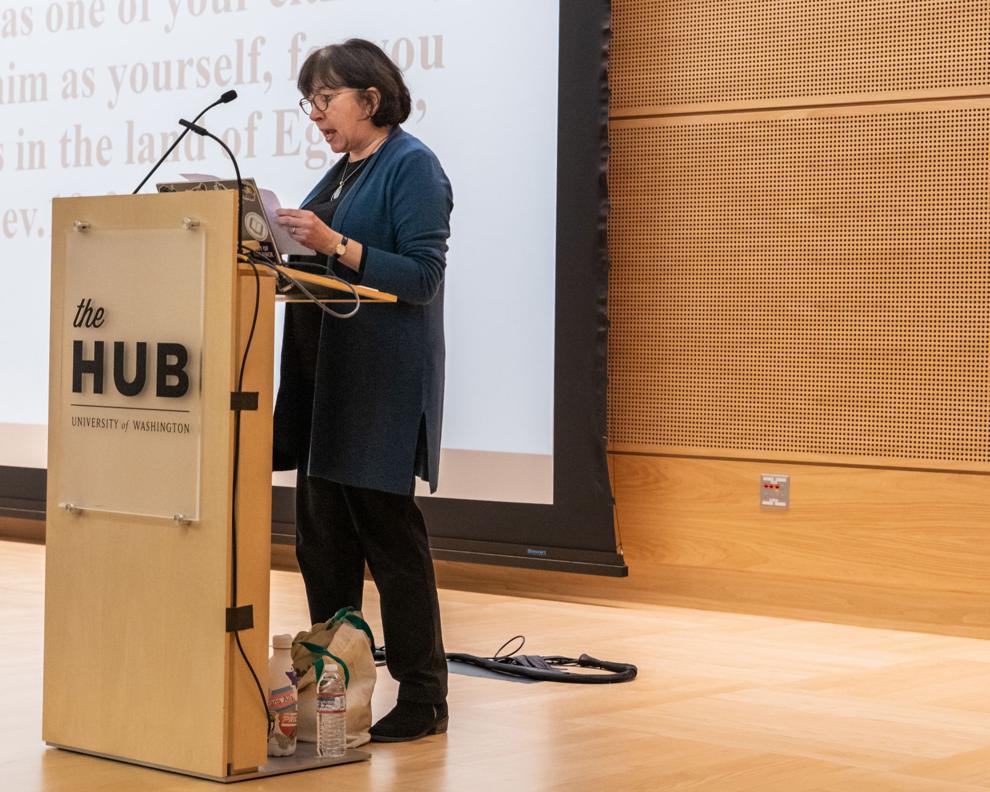 The Hub Lyceum theater was packed as a rapt audience listened to and participated in "Crossroads: Exploring Antisemitism and Anti-immigrant Sentiment" Feb. 12. This event was coordinated by the Anti-Semitism Working Group, a coalition on campus working to broaden the conversation about anti-Semitism on campus and addressing its intersectionality with other existing oppressions. Four panelists from diverse backgrounds used their expertise to unite the communities of the UW under a shared goal of equality.
While each of the panelists' material could have occupied the entire event, or an entire quarter, they each delivered a compelling 10-minute lecture that deeply resonated with the audience. 
Devin Naar, an accomplished author and associate professor of history, and faculty at the Stroum Center for Jewish Studies, addressed the importance of treating anti-Semitism in America as its own system of oppression. Using the lessons written in history, Naar was able to illustrate how Jewish communities have continually been scapegoated for the horrors of the past. 
Popular anti-Semitic rhetoric can be traced back to the "Protocols of the Elders of Zion," a falsified document released in 1902 that illustrated a Jewish plan for world domination. The existence and perpetuation of anti-Semitism in modern America reveals the overwhelming effectiveness of white nationalism, of allowing fear to turn to distrust as marginalized communities are pitted against each other, leaving these horrors unaddressed.
"The biggest part of how white nationalism works is keeping communities separated," Jeremy Voss, a member of the Anti-Semitism Working Group, said. "It makes recognizing those intersections and relationships harder, as it is an uphill battle."
So, while it is important to recognize the distinctiveness of anti-Semitic oppression, this distinction is exactly what must motivate these separated communities to unite. All oppression requires is inaction, and we must recognize a stranger's oppression as undeniably intertwined with that of the community.
Kathie Friedman, an associate professor in the Jackson School of International Studies, recalled when she learned what happened to her relatives in Hungary during World War II. Her own family was dragged from their home and issued a death warrant for their identity. Her neighbors simply watched.
"The stranger who resides with you shall be to you as the native among you, and you shall love him as yourself, for you were aliens in the land of Egypt," Friedman said, quoting the Book of Leviticus.
While this message was written centuries ago, it's relevancy now, even in the state of Washington, shows the importance of empathy and learning from history. This was best illustrated when Angelina Godoy, a professor in law, society, and justice, recounted her own research on how the criminal justice system has become the perfect hunting ground for immigration control, not just on the border, but in our own backyard, such as in Tacoma. When bystanders simply sit back and watch as the country debates who deserves the most basic human rights, communities are being torn apart and our neighbors become strangers.
"Because the same person who is targeting Jews is also targeting people of color [and is] also targeting LGBTQ people," Naar said. "There is a common thread, essentially, so you can find consolation, solidarity, support, and protection when these groups come together. But if they remain separate, if they each believe they are fighting this alone, these powers of oppression win."
Lastly, the audience heard from a representative of the Purple Group, a peer network group made for and run by undocumented students at the UW. While Godoy went into depth on her research, the Purple Group utilized poetry, personal experiences, and interactive activities to give audience members a small window into the lives of students at the UW who face barriers with undocumented status. While our current political climate has made it too easy to dehumanize undocumented people, by providing a platform for organizations like the Purple Group, the audience was able to resonate with an experience that has often been oppressed.
In the end, the event seemed to live up to its name, "Crossroads," allowing an amalgam of identities and experiences to unite under the same roof and the same cause. And just like crossroads, the roads that meet may have come from wildly different places, some roads more bumpy or steep than others. 
But make no mistake — this crossroads is a moment in history, a continuous choice to move forward, leaving no one behind, even if it is an uphill battle.
Reach writer Jaiden Feldman at wellness@dailyuw.com. Twitter: @sincerelyjaiden
Like what you're reading? Support high-quality student journalism by donating here.